Introduction to Worm Composting
July 20, 2021 @ 6:30 pm

-

7:30 pm

Free
This event is free (Donation optional.)
Composting transforms food waste from our kitchens into a substance (compost!) with a full spectrum of nutrients, lots of organic matter, and microorganisms that benefit soil. Adding compost to our gardens has many benefits, from improving soil structure to helping it retain water. It's a gardener's best friend! Indoor composting with worms (vermicomposting) is a great option when housing situations do not allow outdoor composting, or during cold Maine winters when outdoor compost piles aren't actively composting. Plus it's fun and very effective!
Mark Follansbee (WormMainea) will demonstrate how easy it is to get started. He'll teach us how to build a worm bin for less than $15 — and how to keep the bin trouble-free over the coming months & years. Mark will cover feeding and monitoring your bin; harvesting vermicast as a soil amendment; and making vermicast tea for your plants. There will be time to answer questions and address some myths about vermicomposting.
Mark Follansbee works as an environmental scientist/toxicologist. He has been vermicomposting since 2000 and started WormMainea in 2005 to educate others about vermicomposting. Visit the WormMainea website to learn.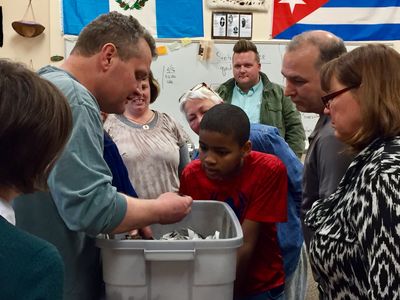 Related Events