Holistic Orcharding Series
April 9 @ 3:00 pm

-

5:00 pm

$30 – $90
This is a series of three webinars on Holistic Orcharding, scheduled for April 9th, April 16th and April 30th and priced on a sliding scale of $30-$90 for the series.
This webinar series is intended to introduce home & beginner orchardists to the core tenants of a holistic approach to fruit tree care. Mike Biltonen, owner and organic orcharding consultant at Know Your Roots, brings 40 years of orcharding experience to the forefront during these three classes. He will dig into pomological science, plant health, soil fertility, and holistic IPM, as well as discussing the change in mindset that it takes to be a truly successful holistic apple grower.
All sessions will be recorded and the recordings shared with all registrants.
Questions? [email protected]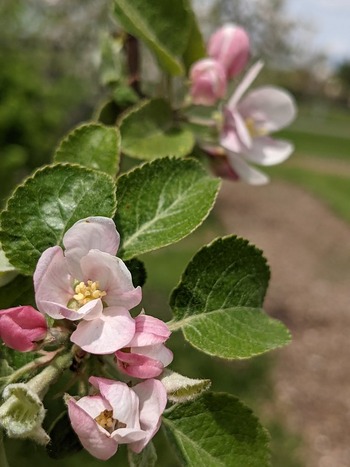 Part 1 – Holistic Pomology: Shifting Consciousness
This introductory session is more than a cursory discussion of holistic pomology. This session will delve beneath the surface looking at how holistic farming differs from conventional agriculture and even organic farming. We will compare and contrast the differences (and some similarities) in order to draw a complete picture that's clear and focused on the foundations of holistic pomology, while setting the stage for the practical aspects of establishing and managing a holistic orchard that grows great fruit. Fundamentally, participants will begin to understand what we – even as devout organic farmers – need to do to change the face of farming as we enter an era of changing climate, food insecurity, and declining human health. We will use some basic pomological concepts to set the stage.
Part 2 – Holistic Pest Management: Insect and Diseases
Pretty much everyone's #1 concern is insects and disease pests and how to control them. While many folks look to their sprayer for solutions, the reality is that orchard ecosystem health is paramount to creating a resilient, healthy farm. So how do we get there? Well, first we need to understand the players – the insects and pathogens – that create the problems, as well as the ones that are part of the solution. Then we need to understand the environmental conditions by which these organisms are poised to do the damage we so desperately seek to prevent. Lastly, this webinar will cover the improvements to orchard health that farmers/orchard managers can make through the use of plants and microbes, as well as sprays and fertilizers, all the while shifting away from an allopathic mindset.
Part 3 – Let It Grow: Holistic Soil Health
Soils are the foundation of any farm or orchard. Without healthy soils, plants won't thrive and you can't raise nutrient dense food. In this session, we'll discuss the basics of soils, what they are made of, what supports them, how they support you – we'll be digging into the fact that soils are so much more than just dirt. The last 20 years have opened entire microbial worlds – fungi, bacteria, protozoa, and more – to us, as we are beginning to understand their importance to both managed and unmanaged ecosystems. As such, we stand at the vanguard of a new period in our agricultural existence. As we learn about soils and soils health during this session you will also learn about the microbial world in your orchard and what you can do to enhance its diversity – and, with it, the health of your orchard. By the end of the session you and your view of soils will have radically changed.
Related Events