Hayday: A Field & Forest Day at MOFGA
July 23, 2022 @ 10:00 am

-

2:00 pm
Join us to learn some new skills & enjoy a summer's day on the MOFGA grounds!
This free & family-friendly event is open to all. All workshops are hands-on … come learn with us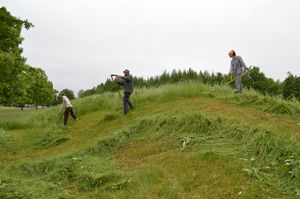 • Try out a scythe or expand your scything know-how! Learn about sharpening & peening a blade; mowing technique; making hay and baling using a hand bailer; making your own snath (a scythe handle); and more!
• Learn to build an orchard ladder using cedar from the MOFGA woodlot;
• Help create a hugelkultur garden bed (a mounded bed made from wood and other compostable materials);
• Learn about pollarding and coppicing (ways to prune trees so you can continually harvest wood from them for generations) and producing "tree hay" to feed livestock year round;
• Join a tree ID walk in the MOFGA woodlot;
• Kids can learn how to make a pollinator home! Workshop at 10 am & 12 pm;
• Learn how to make biochar, a charcoal-like material produced as a way to sequester carbon & improve soil quality;
• and lots more! 
| Time | Scythe Tent A | Scythe Tent B | Tree Fodder | Forestry Walks | Apple Ladder Tent | North Orchard & Garden | Children's Tent |
| --- | --- | --- | --- | --- | --- | --- | --- |
| 10 a.m. | Scythe 101 with Jesse Logan and Sy Schotz (including getting fit for a scythe and overview of use!) | Grass fed vegetable demonstration with Jim Kovaleski | Walking tour to see and cut various species of browse with Shanna Hanson | Tree ID walk with Allyssa Gregory | Make an apple tree ladder with Sam Brown and John Bunker (all day) | Hand pollination for seed production with Heron Breen | Making pollinator houses (and other activities throughout the day) |
| 11 a.m. | Peening/honing with Sy Schotz | Mowing around obstacles with Jim Kovaleski | Canopy Harvest for Livestock Fodder and Tree Health, and an intro to safe tree climbing and cutting with Shanna Hanson | Pruning Trees to Add Value to Your Woods with Andy Shultz | (continued) | Hugelkultur Building with Teddy Matson (until approximately 12:30) | Making pollinator houses |
| 12 p.m. | Scythe practice/getting started with Jesse Logan | Demonstrating homemade hay baler with Jim Kovaleski | Tree leaf stripping for barrel silage with Shanna Hanson | | (continued) | Biochar making and practice with John Newlin | |
| 1 p.m. | Leafy loose Hay on a rack with Sy Schotz | Sharpening american pattern blades with Benjamin Bouchard | Leafy loose hay on a rack with Sy Schotz | Traditional Sheaf Tying and Stacking for Twig-Leaf Hay with Shanna Hanson | Tree ID walk with Allyssa Gregory | (continued) | (Biochar continued) |
We hope you also enjoy a summer day on the grounds!  Please feel welcome to explore the gardens, walk through the woods, find a new favorite poem in the poetry grove, head across the street to explore the Hills to Sea Trail or Maine Heritage Orchard, and enjoy a picnic after supporting our vendors.
There will be food for sale from Fresh Ella's ice cream and Truck & Vesper Bread.
REGISTER HERE to get updates about the latest event details.
We're also looking for volunteers! Come join the fun & lend a hand while you're at it. More info on volunteer opportunities can be found here.
Questions? Email [email protected]
Related Events