Growing Seedlings Indoors
February 18, 2022 @ 12:00 pm

-

1:15 pm

Free – $15
This event is priced on a sliding scale of $0-$15; please pay whatever you're able to.
Some vegetables should always be planted outside in the ground, directly from seed (like carrots & radishes). But in our climate, other vegetables – like tomatoes, onions and Brussels sprouts – should be planted in pots or trays indoors, before the weather outside has warmed up. With a good in-home set up and some careful timing, you can grow healthy seedlings that will be ready to transplant out into your garden! Growing your own seedlings is also a great way to get some beautiful green plants into your home in late winter, plus it's often extremely cost-effective.
MOFGA's Crop Specialist Caleb Goossen will share the basics on this process to help you get set up to grow healthy seedlings indoors. He will show various indoor set-ups (from low cost to higher cost), discuss crops and when to plant them indoors, and address some of the most common problems that arise when growing seedlings. Have you had issues growing your own seedlings? Bring your questions!
About Caleb Goossen: He joined MOFGA in 2018 after receiving his PhD in agronomy from the University of Vermont. Prior to that he farmed for nine years in Vermont, worked at Vermont's oldest nursery, and had brief horticultural adventures in Belize and New Zealand.
Contact [email protected] with questions.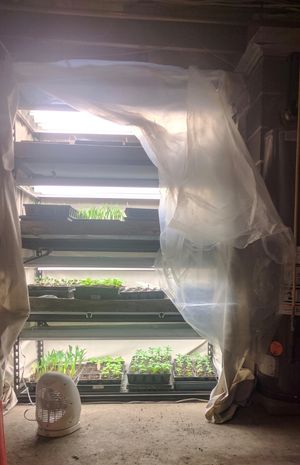 Related Events