Crecer, Cosechar y Compartir // Grow, Harvest & Share
May 18 @ 6:30 pm

-

8:30 pm

$5 – $25
United Technologies Center (UTC) ubicado en 200 Hogan Road en Bangor, Maine. This class will be taught entirely in Spanish.
Esta clase se impartirá en español. Se ofrece en una escala ($0- $25); Por favor, pague lo que
pueda pagar.
En este clima frio, se hace tal vez dificil crecer ciertas flores, hierbas, legumbres or verduras necesarias para nuestras comidas tradicionáles. Quisiera usted aprender
acerca de crecer su proprio jardin o huerto en Maine? Aprenderemos acerca de plantas que crecen en espacios pequeños, en tiestos, y mas importante, en la zona de cultivación de este clima. La clase es para personas de todo nivel de experiencia.
Presentación visual de PowerPoint, conversación, una actividad "hands-on", e información en folleto.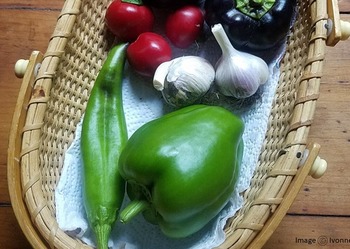 La clase será impartida por Ivonne Vázquez y Christa Little-Siebold. Ivonne es originaria de Nueva York de padres Puertorriqueno's. Ella tiene más de 20 años de sembrar vegetales y hierbas aqui en Maine. Actualmente se dedica a la siembra de plantas nativas de la región en su empresa Bas Rouge Farm & Forge.
Christa es Guatemalteca erradicada en Maine desde 1997. Le fascina aprender y compartir trucos para la siembra y cosecha de comida y flores en espacios públicos comunitarios y en su empresa Wild View Gardens. Este taller se impartirá en español y los participantes podrán llevarse su creación a
casa.
Dirección e instrucciones: UTC se encuentra en el 200 Hogan Road en Bangor. Estacionamiento
en plenitud, incluyendo espacios accesibles para discapacitados a la derecha del edificio. Por
favor, entre por las puertas principales y será dirigido al taller.
Por autobús: La parada del BAT Bus es por la ruta Mount Hope que hace parada en Dorothea
Dix (detrás de UTC) y en Eastern Maine Community College (EMCC), que es la esquina opuesta
en Hogan Road.
English:
In this cold climate, it is sometimes difficult to grow certain flowers, herbs, legumes and vegetables used in our traditional foods. Would you like to learn about growing your garden in Maine? We will learn about the plants that grow well in small spaces, containers and, most importantly, in our growing Zone and colder climate. The class is open to all experience levels. There will be a presentation, conversation, hands-on planting activity and handouts to bring home.
The class will be presented by Ivonne Vazquez and Christa Little-Siebold. Ivonne is originally from New York City of Puerto Rican parents. She has over 20 years of experience growing vegetables and herbs in Maine. Currently, she grows and sells native plants through her business Bas Rouge Farm & Forge. Christa is from Guatemala, living in Maine since 1997. She loves to learn and share tips and tricks on growing and harvesting food and flowers in community gardens and through her business Wild View Gardens.
The class and workshop will be presented entirely in Spanish. Participants will be able to take their class activity home.
Getting to class: UTC is located at 200 Hogan Rd, Bangor. There is plenty of parking, including handicap accessible spaces. Please enter through the main doors and you will be directed to the workshop. The correct BAT Bus stop is the Mount Hope route that stops at Dorothea Dix, which is behind UTC, and Eastern Maine Community College (EMCC), which is the opposite corner on Hogan Road.
Related Events