Great Maine Apple Day 2020
Celebrate the history, flavor and tradition of Maine apples!
Check this page for resources and information on apples, other tree crops and much more!
• • • • • • • • •
Webinars
Click on the links to the following webinars on YouTube:
• Tracking Down Old Apples: Tricks of the Trade with John Bunker, Todd Little-Siebold and Laura Sieger. Join these passionate fruit explorers for a 45 minute presentation about discovering and identifying apples, followed by lots of time for questions. They will discuss recent discoveries of old Maine apple and pear varieties that will be preserved in the Maine Heritage Orchard, and lots more.
• Fruit Explorers Forum. Fruit explorers from all over will share their recent discoveries and thoughts on growing adaptable tree crops for our changing climate. We're excited to have many friends join us with updates, including: Aaron Parker (Southern Maine; growing pawpaws & persimmons); Eliza Greenman (Virginia; mulberries, nut trees); Matt Kaminsky (Western Mass.; wild apples & pears, silvopasture); William Mullan (Brooklyn, N.Y.; city apples); and Jesse Stevens (Western Maine; figs and more). A great way to connect with folks you normally see at Great Maine Apple Day!
Contact [email protected] with questions!
---
Virtual Fruit and Nut Display
Visit this page to see submitted photos of fruit from all over Maine!
We're still accepting photos to add to this display! Maybe you have a wonderful old tree growing on your property, or perhaps you stumbled upon an abandoned pear tree recently with the most delicious fruit? We'd love to include photos of other non-tree fruits, too – hardy kiwi, grape, peaches, blueberries …. We highly encourage you to share the variety name if you know it!
Please submit photos by emailing them to [email protected].
Include:
Variety name
Location of the fruit tree
Date of harvest or photo
Your name to add when we post the photo (optional)
A note (if you wish)
Visit the Maine Heritage Orchard website
---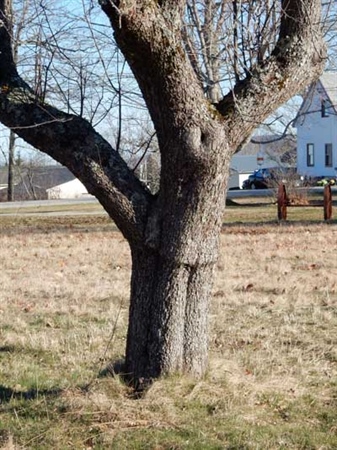 This tree shows a very old graft union. When you discover an apple tree, the first step is to figure out if it has been grafted or not.
Apple ID
John Bunker's Apple Identification tables are always a hugely popular part of Great Maine Apple Day! Fortunately, he can still help with identification from afar! If you're interested in having an apple identified, please send an email to [email protected]. This initial email will help John determine if your tree was grafted and therefore if the apple variety can, potentially, be identified. John will respond to your email and tell you about next steps!
Please include this information:
Your name
The location of the tree
A measurement of the circumference of the tree at shoulder level
3-4 photos of your tree
One photo standing back from the tree, capturing its complete form
Several close-ups of the base of the trunk below the lowest limbs
Good lighting is important!
For more information on the apple identification process: https://www.outonalimbapples.com/apple-ids
For help understanding whether a tree is a seedling or grafted tree: https://www.outonalimbapples.com/seedling-or-grafted-tree
John does not charge for this service, although we do ask that you make a donation of any amount to the Maine Heritage Orchard. Please write "Maine Heritage Orchard" in the memo line to ensure the gift is used for orchard expenditures.
---
Resources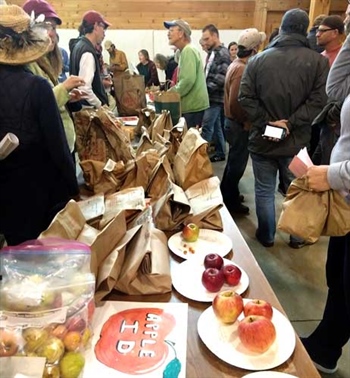 Apple ID at Great Maine Apple Day in 2019
Education/ Skill Share
Apple Identification 101 with John Bunker (recorded during the 2020 Common Ground Country Fair livestream)
University of Idaho Heritage Orchard Conference (free monthly zoom series)
Unconventional Stories From An Apple Farmer
(blog by Eliza Greenman #eatuglyapples campaign, HogTree orchard-raised pork)
Grow Organic Apples (Michael Phillips, Holistic Orchard Network)
Skill Cult (blog & tons of YouTube videos) – Steven Edholm challenges standard approaches to fruit tree training, invites us to breed apples and has many helpful and inspiring videos on grafting and a range of homestead topics that he is really good at demonstrating.
Gnarly Pippins (Musings on wild apples, blog, shop, scion catalog)
Montezuma Orchard Restoration Project (Montezuma County, Colorado)
---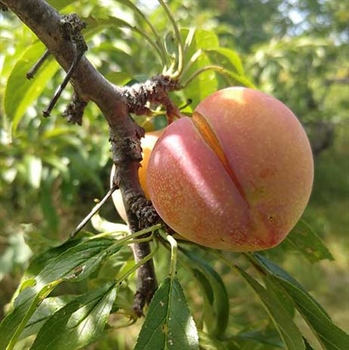 Articles from the Archives
Apple Tree Care by John Bunker (2004/05 MOF&G)
Growing Crabapples by Roberta Bailey (2002 MOF&G)
Maine Peaches by C.J. Walke (2018 MOF&G)
Flash Grazing Pigs for Pest Management by C.J. Walke (Spring 2017 MOF&G)
Too Many Wood Chips? (About the use of ramial wood chips in orchards & beyond.) By Will Bonsall
Building the Microizal Connection by C.J. Walke (summer 2017 MOF&G)
Fall Reminder and Caring for a Young Orchard by CJ Walke (Fall 2016)
Apple Orchard Activity Calendar for the Northeast (tasks in the orchard listed by month)
---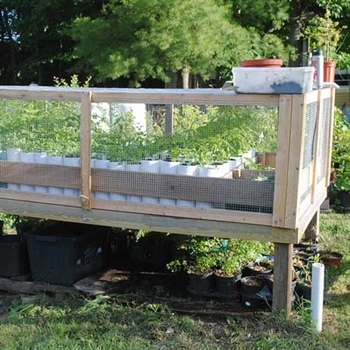 Some Reputable Nurseries
Cummins Nursery (Ithaca, N.Y.)
Edgewood Nursery, Specializing in Unusual Edible Plants
Five Star Orchard & Nursery (Brooklin, Maine)
Montezuma Orchard Restoration Project (Montezuma County, Colorado)
The Farm Between, Organic Nursery and Fruit Farm
---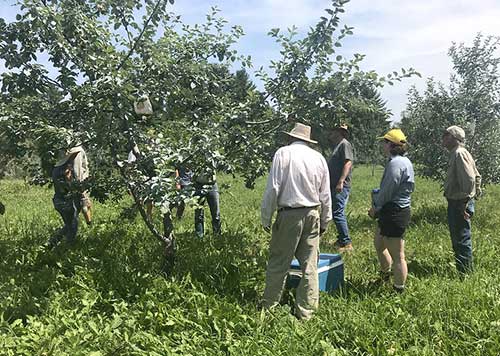 Local Orchards, etc.
The Apple Farm (Fairfield, Maine)
Sandy River Apples (Mercer, Maine)
Lakeside Orchards (Manchester, Maine)
North Branch Farm (Monroe, Maine)
5 Star Orchard & Nursery (Brooklin, Maine)
Teltane Farm (Monroe, Maine)
Bailey's Orchard (Whitefield, Maine)
Rowe's House of Apples (Newport, Maine)
Mainely Apples (Dixmont, Maine)m
Sweetser's Apple Barrel & Orchards (Cumberland, Maine)
Portland Food Map- A Guide to Maine Cider (food/apples/cider blog by Anestes)
Out On A Limb Apples/ Super Chilly Farm
(Unusual/ Rare/ Historic Apple CSA based in Palermo, ME several distribution sites)
Take a virtual tour of MOFGA's North Orchard using Google Earth – including photos of each variety of fruit tree taken at various times of year, and the fruit it produces!
---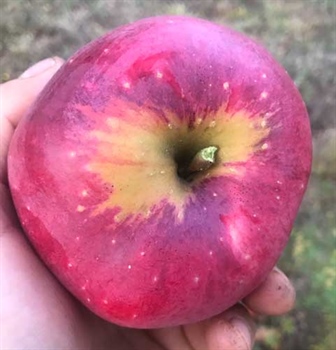 Wolf River apple. Jacob Mentlik photo.
Visual Media and Botanical Apple Descriptions
Pomme Queen (pop art apple photos/descriptions by William Mullan)
Maine Heritage Orchard @ MOFGA
Gnarly Pippins
(The Wild Apple Foragers Guide and Proceedings from the First Annual Wild & Seedling Pomological Exhibition, Instagram photo collection of wild fruit)
USDA Pomological Watercolor Collection
(searchable database of historical watercolors (mostly tree crops but other fruits too) painted by various artists in the early 1900s commissioned by the USDA)
The Righteous Russet (photos and apple descriptions by Sean Turley)
USDA Germplasm Resources Information Network (searchable database)
---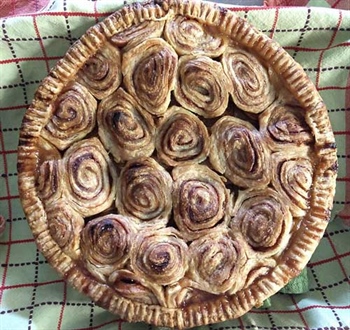 Winning pie at the 2019 Great Maine Apple Day
Apple Recipes
Cheryl Wixon's Kitchen Maine Applesauce Recipe
John Bunker's Apple Pie Recipe (video)
Recipes from Out on a Limb Apple CSA in Palermo
Related Events