Grafting Workshop (online)
April 12 @ 6:00 pm

-

8:00 pm

$15 – $25
Join us online to learn to reproduce your favorite fruit tree varieties! Bench grafting is a very cost-effective way to create (graft) new small trees for planting. Instructor Matt Kaminsky will explain why to graft and will walk you through the correct technique for whip & tongue grafting, and will also demonstrate several other methods. We encourage you to "graft along" and bring all your questions! Care for your new trees will also be discussed.  Matt Kaminsky is an apple forager, cider maker and expert grafter from Hadley, MA.
This class is also being offered in South Portland, Maine, on April 23rd; learn more here.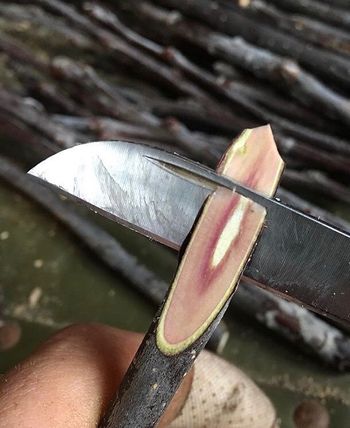 You can reserve a packet of grafting supplies if you wish, which will be mailed to you before the workshop. (Materials sourced for you at cost.) 
Grafting Packets ($40) contain:
-1 grafting knife
-1 roll of grafting tape
-5 pieces of rootstock
-5 pieces of scionwood 
*You'll need to provide your own graft sealant – you can use beeswax from a candle, nail polish, or a grafting compound like Trowbridges or Treekote.
Pricing:
MOFGA Member, no packet: $15
MOFGA Member, incl. Packet: $55
Non-member, no packet: $25
Non-member, incl. Packet: $65

Grafting Packet only (admission to the webinar is free for participants inn MOFGA's Journeyperson program and BIPOC community members): $40
*Deadline to reserve grafting packet: March 27th (or sooner if packets sell out).
*If you live outside of New England you will have the option of making a small additional donation when registering to cover the extra cost of postage to mail you the package.
Questions? Email [email protected]
Related Events