Fermentation for Beginners
February 23, 2022 @ 5:00 pm

-

6:30 pm

Free – $25
Fermentation is one of the oldest and most effective ways to preserve food. Not only does it expand the storage life of produce, making it possible to eat locally or home-grown food in the middle of winter, but it also enhances flavor and significantly boosts nutrition! This workshop is designed with total beginners in mind, yet avid fermentation enthusiasts will also likely learn some new things!
Anneli Sundqvist will explain the basic principles of the process to fermenting vegetables, and demonstrate – straight from her home kitchen – how to make sauerkraut and kimchi using in season winter storage crops like cabbage, carrots, rutabaga and more. From there, she will also talk about how to ferment other veggies such as cauliflower, corn and onions, and how to make fermented salsa and hot sauce.
Anneli Sundqvist has lived on a self-sufficient homestead on Deer Isle, ME for over a decade, where among many other things she has grown and stored almost all of her own food – including 40-50 gallons of fermented vegetables each year. To her, fermentation is one of the ultimate keys to self-reliance and can and should be done with a no-fear, no-fuss approach.
This webinar is being offered on a sliding scale; please pay whatever you are able. Thanks for supporting MOFGA's educational programming!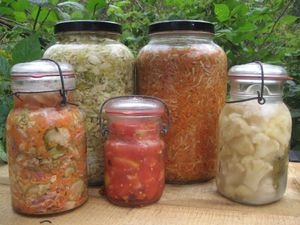 Related Events