Co-hosted by MOFGA and the Maine Grain Alliance.
Join us on the MOFGA grounds for a celebration of Maine-grown grain! We'll be highlighting the people and businesses who use this grain to make bread and beer.
Inside the Exhibition Hall there will be a beer tasting with local breweries, and outside and in the kitchen we'll have a full line-up of workshops. Live music and food for sale outside.
If you're a home baker, bring some extra sourdough starter to share and come chat about bread! A homebrewer? Come ask questions to the experts at the homebrewing workshop!
Tickets are also available at the door.
We are also excited to announce that all attendees will be entered to win a special door prize (drawing at the event on June 25): two VIP tickets to "The Late Show with Stephen Colbert"! Winners will be able to attend a taping of this hit show and will work with show organizers to find a date that works for them later this year. (Please note, winners of prizes must be 18 or older.)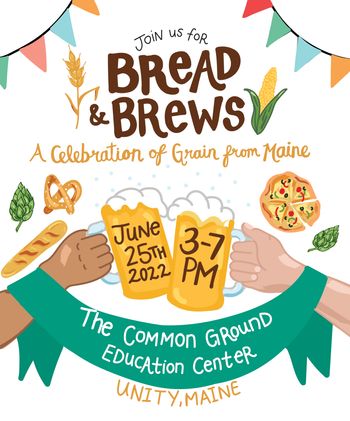 Tickets
$50 ($45 for MOFGA/MGA members.)
$25 ($20 for MOFGA/MGA members) for those not participating in the beer tasting.
Free for kids under 12!
Special workshop with the Maine Grain Alliance: Pizza at Home and in the Pub – Committing to Local Grains – more info & registration here!
Food Vendors
Uproot Pie Co. – serving up 9″ pizzas from their mobile wood-fired oven. Based in Rockport.
Spark Bagel – slinging naturally leavened, honey boiled bagels and bagel sandwiches. Based in Monroe.
Vesper Bread – baking beautiful sourdough bread & treats just a few miles away in Freedom, Maine.
Wicked Main Pops – sharing all natural frozen fruit pops. Based in Greenville.
Breweries from across Maine, including:
Allagash Brewing Co

East Outlet Brewing

Flight Deck Brewing

Fogtown Brewing Co

Frosty Bottom Brewery

Lake St. George Brewing Co

Moderation Brewing Co

Outland Farm Brewery

Oxbow Brewing Co

Sasanoa Brewing

The Urban Farm Fermentory
We're looking for help at the event! Learn more and sign up to volunteer here. All volunteers receive a complimentary base level ticket with the option to purchase access to the beer tasting portion of the event.
While you sip your beer you can enjoy a photography display by Jim Amaral (founder of Borealis Breads) celebrating the efforts of farmers, millers, and bakers who are working to recreate and sustain a thriving grain-based economy throughout Maine. Pictures available for purchase to support MOFGA's PFAS work!
Music
3:00 pm: The Gawler Family Bottomfeeders (Elsie Gawler, Bennett Konesni, and Ethan Tischler) – Playing original and traditional songs and fiddle tunes on guitar, cello, fiddle banjo and rich three part harmony.
5:00 pm: GoldenOak, a Maine-based band fronted by siblings Zak and Lena Kendall & rounded out by up-right bassist Mike Knowles and Drummer Jackson Cromwell. Their latest album "Room to Grow" is a 10-song reflection of the emotional and physical impacts of the climate crisis. This video features Gabriel Frey, a 12th generation Passamaquoddy black ash basket maker.
| TIME | KITCHEN | TENT | GARDENS & ORCHARD |
| --- | --- | --- | --- |
| 3 p.m. | Making Beer Braised Mushrooms & Polenta with Chef Erik LeVine | Growing Grains on a Homestead Scale with Ross Ludders | Tour of the Gardens at MOFGA with Jack Kertesz |
| 4 p.m. | Making Muufo (unleavened Somali flatbread) with Muhidin Libah of the Somali Bantu Community Association | Making Great Homebrew with the brewers at Central Street Farmhouse | |
| 5 p.m. | Making Traditional Buckwheat Ployes with Fr. Paul Dumois of Farmington | Grain Seed Restoration with Richard Roberts of the Maine Grain Alliance | Tour of the Gardens at MOFGA with Jack Kertesz |
| 6 p.m. | | An Introduction to Malting with Joel Alex of Blue Ox Malthouse in Lisbon | |
Please note:
No dogs, please
IDs checked at the door for those 21+ participating in the tasting.
Breweries will be serving until 6 pm; music will end at 7 pm.