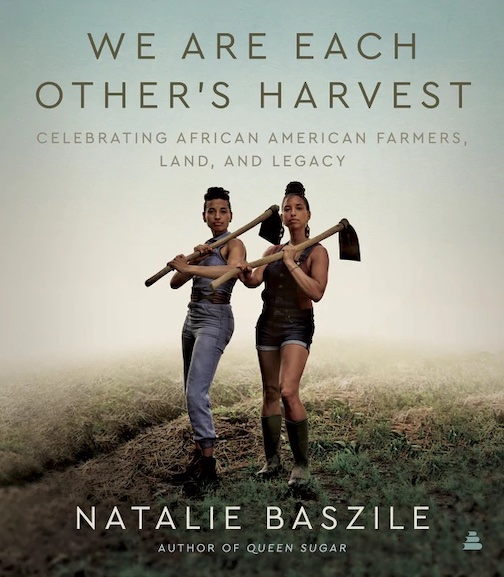 When you imagine a farmer, what comes to mind? For many, it's a white man in plaid and jeans in an expansive field with a tractor. Author Natalie Baszile begins "We Are Each Other's Harvest: Celebrating African American Farmers, Land, and Legacy" with a similar image, describing a mural meant to be a tribute to farmers. While there are many farmers who fit this image, Baszile asks, what do we miss when we keep our eyes narrowed to one version of farming? What stories would Black farmers tell? The essays, interviews, photos and poems that comprise this anthology provide a historical and present-day answer.
Throughout the tapestry of stories, challenges of Black farmers are exposed. From being swindled out of their land by whites who masqueraded purchase agreements as leases, to white violence that drove Black farmers off their land, to racist policies at the USDA and Farm Service Agency (FSA) that not only failed to support Black farmers but continue to lead to the transfer of Black-owned land to white farmers.
Alongside heart wrenching struggles, we see steadfast persistence, creativity and mutual aid, and learn about Black farmers who set the stage for today's local farming movement. We read about historical figures like Dr. George Washington Carver, who taught regenerative farming practices; Booker T. Whatley who pioneered the ideas of "pick your own" and community supported agriculture; and Shirley and Charles Sherrod, who helped create a community land trust on 5,700 acres of Black-owned land in Georgia.
The importance of land ownership is a core tenet that runs through this anthology, and in their community and connection to the land, the writers show us the deep love and joy that grows from their work and lives. Joy alongside and despite struggle is illustrated in stories of generational Black family farms that are expanding their land base and passing knowledge onto new generations. It's found in the lines of Tim Seibles' poem "Fearless": "Is it possible to be so glad? / The shoots rising in spite of every plot / against them."
We need that gladness, that rising in spite of what we're up against. From climate change to food justice and racial justice, these stories are vital to creating an equitable and just food system. Learning and understanding the full history that brought us to where we are now is critical to charting a path forward that may grow solutions, no matter how implausible those solutions might feel.
Naima Penniman writes in her poem "A Love Letter To Future Generations": "You are the result of countless love stories / and unnumbered feats of overcoming / Can you hear your mother / humming you to sleep / while hiding out on escape routes / to an implausible freedom / you made her believe in."
Filled with history, contemporary experiences and the possibilities of the future, this is a book that every farmer should read.
Katie Spring, Good Heart Farmstead, L3C, Worcester, Vermont