"What kind of nourishment prepares us for bravery?" Severine von Tscharner Fleming asks in her introduction to "The New Farmer's Almanac, Volume V." As we emerge into summer after a year of COVID-19 lockdowns, social justice uprisings, wildfires and floods, we need to be brave enough to map a new way of being. One that connects rather than separates, weaves rather than dominates.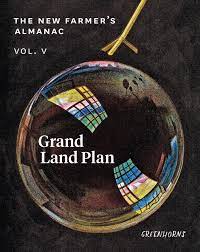 "The New Farmer's Almanac" is a book of connections. Within its pages, poems, essays, interviews and art weave together stories of farmers, gardeners, teachers and land stewards from across the United States and Earth, connecting stories and soil, policy and art, Indigenous wisdom and possibilities of the future.
The stories that comprise this book seem to talk with each other, a conversation between the authors as seasons build, and each individual chapter is made stronger for the stories that both precede and follow. An essay on mutual aid and the Black experience flows into the next story on Appalachian Ohio, where Lisa Trocchia writes, "Our most basic instinct as human beings is mutual aid. Survival has always depended on cooperation."
In "Penobscot Million," we see how the legal arguments against the Penobscot Tribe's rights to the river came down to the Oxford English Dictionary's definition of "island." Which leaves one wondering, is it possible to find acknowledgement through the language of colonizers?
Later, in "Beans, Peas, Quinoa, Wheat," Charlotte Du Cann writes, "Once, we had stories that kept us close to the land … Can we recover those kinds of relationships? Can ancestral myths and teaching speak to us again?" And we're reminded that if we look far enough back, every language holds stories of connection and reciprocity, and we can grow our way back to them.
"The New Farmer's Almanac" points the way forward by contextualizing the past, celebrating resilience and upholding imagination as a powerful force. "If we cannot imagine systemic change," Ang Roell writes in "Radicalize the Hive," "We cannot begin to end the extractive practices that have perpetuated the oppression of people, land, water, and animals."
While the contributors illustrate the environmental and social harm caused by industrialization, capitalism and colonization, this book isn't about despair. "Our relationship with our surroundings can be joyful, purpose-filled, and interdependent," Roell goes on to say, taking lessons from honeybees.
Indeed, this collective work shows the way forward will be seeded with songs, built on stories of regeneration and on relations rooted in interconnectedness. It offers a way to navigate toward an environmentally just and equitable world, doling out creative nourishment that sparks the imagination and stokes the belief that humans can be ­– must be – part of nature's balance.
The work ahead requires bravery, and also joy. "Just remember," writes Shamu Sadeh, Janna Siller and Rebecca Bloomfield, "That you get to laugh while you re-work the global food economy with your bare hands." In the end, "The New Farmer's Almanac" answers von Tscharner Fleming's question like this: Bravery is nourished by soil, creativity and connection.
– Kate Spring, Good Heart Farmstead, L3C, Worcester, Vermont