"The Monsanto Papers: Deadly Secrets, Corporate Corruption, and One Man's Search for Justice" by investigative journalist Carey Gillam covers the 2018 jury trial of Dewayne Johnson v. Monsanto Company. The plaintiff, known to friends and family as Lee, alleged to have developed a rare type of non-Hodgkin lymphoma as a direct result of using Monsanto's Ranger Pro, a glyphosate-based herbicide. While Johnson is just one of many plaintiffs, more than 50,000, who sought damages from the corporation in a national Monsanto Roundup mass tort litigation coordinated by lawyers from across the country, he had the distinction of being the first to see his day in court.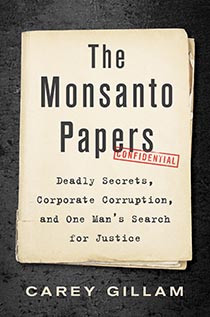 Within a year of an accidental dousing of the herbicide, 41-year-old Johnson developed skin lesions which, over the course of another year or so, grew to cover his entire body, from bone-exposing sores on the soles of his feet to scales on his eyelids that, at times, made it hard for him to open his eyes.
Through her adept assemblage of an astonishing amount of research conducted over the course of 5 years, Gillam brings readers into Johnson's life: We see him enjoying time with his wife and two young sons; in a schoolyard, spraying herbicides with a leaky backpack sprayer; confined to a worn-out sofa in a darkened apartment, immobilized by both the day-to-day struggle of living with the disease and the reality of his terminal diagnosis.
Similarly, during the jury trial held in California, Johnson's ambitious legal team worked to paint a vivid portrayal of all that Johnson had already lost and stood to lose because of Monsanto's failure to warn consumers that their glyphosate-based herbicide formulations were probable carcinogens, appealing to the jurors' humanity while mounting an evidence-based case against the corporation.
Gillam's account approximates a play-by-play of the trial, and the events leading up to it, and was informed by her exhaustive interviews with lawyers, witnesses, trial jurors, and Johnson and his family. Though Monsanto declined to be interviewed for the book, Gillam included excerpts from video depositions of witnesses, including Monsanto's lead scientists and medical experts, court transcripts and, most impressively, the corporation's internal documents. Nicknamed the "Monsanto Papers," a trove of over two million documents – totaling 15,989,111 pages – was released to the plaintiffs' lawyers during the discovery process.
Gillam manages to pack the pages of this book with hard-hitting data, adroit scientific summaries and contextualized explanations of the shortcomings of the U.S. court system without miring the narrative. To the contrary, the resulting journalistic feat is cinematic in scope. Readers will be easily swept along by the pacing of a courtroom drama rife with secrets, betrayal and the quest for justice. For anyone who has been following reporting on Monsanto's toxic legacy, including Gillam's previous groundbreaking work, "The Monsanto Papers" will continue to shed illumination; for readers unfamiliar with Monsanto, this book is sure to shock you.
– Holli Cederholm