One of my favorite things to do is hop in my car and travel around Maine, not to the popular beaches or parks, or busy restaurants, but to homesteads and farms in remote areas. I pull in the driveway or wind my way up a dirt road until it ends, walk around a garden plot or hop on a boat to pull lobster traps, and I become immersed in a unique world — the smells of a kitchen, tackling a project that needs another set of hands, tea and tales by the fire, always a re-connection. This is grounded, dirt-under-your-nails tourism: a pearl necklace of visits, real gems that are remembered for a lifetime.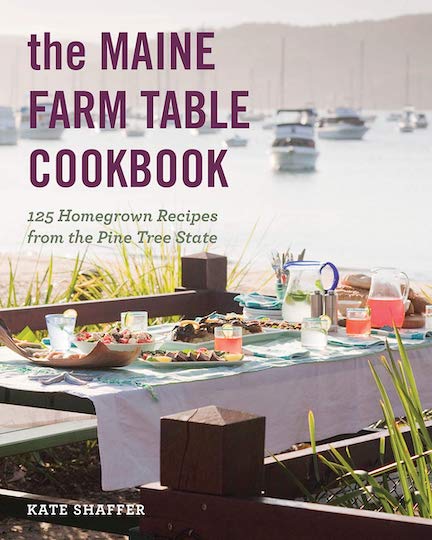 Kate Shaffer's "The Maine Farm Table Cookbook" reminds me of such travels. Each page is a visit with a farmer, a chef, a fisherman, an orchardist, a cheesemaker, a baker, a mushroom grower, a berry farmer. Each recipe is that special one that these entrepreneurs chose to share, the one they put on the table for a visit. Shaffer deepens the visit with information about Maine's farms and industries. Did you know that 27% of Maine's dairies are now organic? Or that lobster accounts for 73% of Maine's 700-million-dollar fishing industry?
The 125 recipes in this collection are as accessible as the ingredients and as diverse as the featured individuals. And such a wealth of deliciousness. Wondering what to make with a big zucchini? Try carrot and zucchini fritters from the Schooner Stephen Taber. Looking for a culinary adventure? Try Tortilleria Pachanga's "chorizo molotes." Have too many turnips? Make New Roots Cooperative Farm's sweet potato and turnip soup with fresh turmeric and treat your root cellar fare to a Somali flavor boost.
You can buy your food at a grocery store, and you can get your recipes online. Or you can meet your farmer at the market, or pick your own produce, and you can make a connection with the recipes and the community from which they arise. Maine has a rich heritage that is growing in new and exciting directions every season of the year. Celebrate it further with this richly flavored journey of a cookbook.
– Roberta Bailey, Seven Tree Farm, Vassalboro, Maine