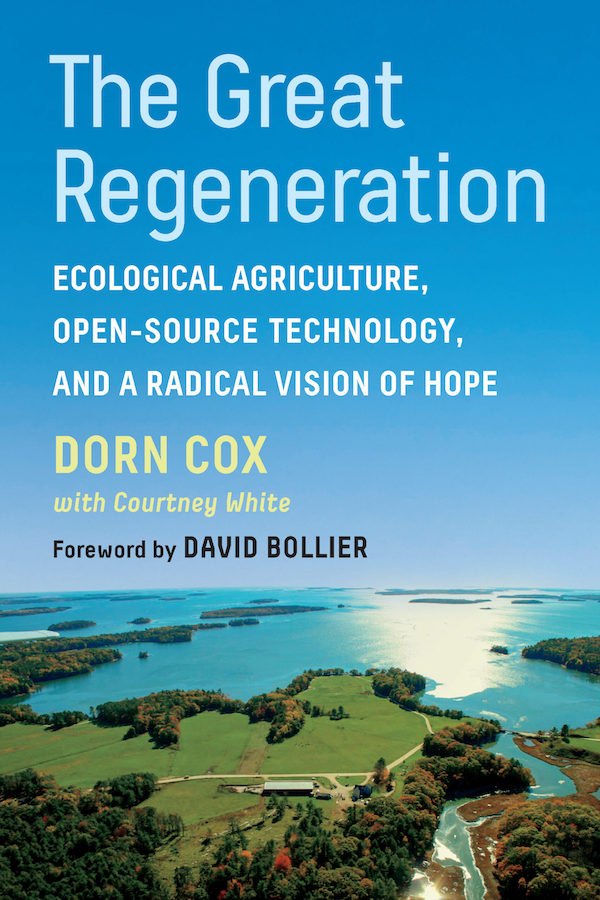 The gathering of agricultural data, from soil types to market rates, has a long history. The earliest states sought to impact the welfare of agriculturalists and consequently the welfare of their appropriative taxation schemes. Basic cadastral mapping has developed into surveys, sampling and data collection of all kinds. In historical terms these efforts have been state-directed, centralized projects up until now. With affordable diagnostic tools, global access to the internet, and a networked community of farmer-scientists, data gathering is potentially decentralized and far more detailed than ever before. Combined with an updated ethic of the "commons," which prioritizes local governance, and active stewardship, we are on the cusp of what author Dorn Cox calls, "The Great Regeneration."
In his highly optimistic book of that name, Cox highlights some of the elements and organizations leveraging this nuanced collection of data in a unified goal of regenerative agriculture. As the research director at Wolfe's Neck Center for Sustainable Agriculture and the Environment in Freeport, Maine, Cox has a unique perspective on this movement. Having convened a global consortium of organizations, corporations, researchers and land stewards, Wolfe's Neck Center has become a hub of hubs in a sense with its initiative, Open Technology Ecosystem for Agricultural Management (OpenTEAM).
It is not easy to propose a new paradigm, and Cox reaches for several different metaphors to communicate just what the future may look like. For example, in a kitchen, knowledge can be shared by way of a recipe, but the tools in the kitchen (like a mixer) codify and steer that knowledge, often embedding mechanical and scientific particulars. Similarly, the knowledge shared in a village coffee shop is nuanced, reciprocative and bound by the users of that knowledge. Cox brings the reader along eventually to the value of software in its unique capacity as a tool to "rapidly compound our shared knowledge and begin to comprehend and manage complexity." This takes us quite far afield from the kitchen mixer let alone the field cultivator, but the ambitious motivation is matched by the overwhelming challenges we face like climate change, environmental contamination and population rise.
"The Great Regeneration" has its main contribution to sustainable agriculture in its encouragement that our ecosystems — as well as the tools we use to understand our ecosystems — require "adaptive management," an idea which reaches beyond the passive user of technology. We must be participants willing to collaborate with a mindset of abundance, sharing our knowledge. Finding the balance between the vulnerability of openness and the intransigence of the gatekeeper is explored in examples of commons with good governance. A "Knowledge Commons" replete with active participation, embedded sovereignty, and technology with which to wield its power will be key in repairing damaged ecosystems. Will it truly represent a break from history's high modernist visions like the Green Revolution? This is a hopeful book, but as someone who has a hard time syncing my Bluetooth with my earbuds … I was not totally convinced. Nevertheless, the point is well taken that farmers' participation is critical if we are to avoid another centralizing, top-down chapter in the story of Western anthropocentric farming systems.
John Bliss, Scarborough, Maine