There are many ways people come to herbalism and become connected to the healing power of plants. Karen M. Rose, author of "The Art & Practice of Spiritual Herbalism: Transform, Heal, & Remember with the Power of Plants and Ancestral Medicine," comes from a long line of "Roses," a perfect last name for an herbalist. She didn't change her name as many people often ask her, and she shares that it is also the name of her ancestors' enslaver. She writes, "I uplift all the ways my ancestors stood in their beauty, joy and resilience, like a rose."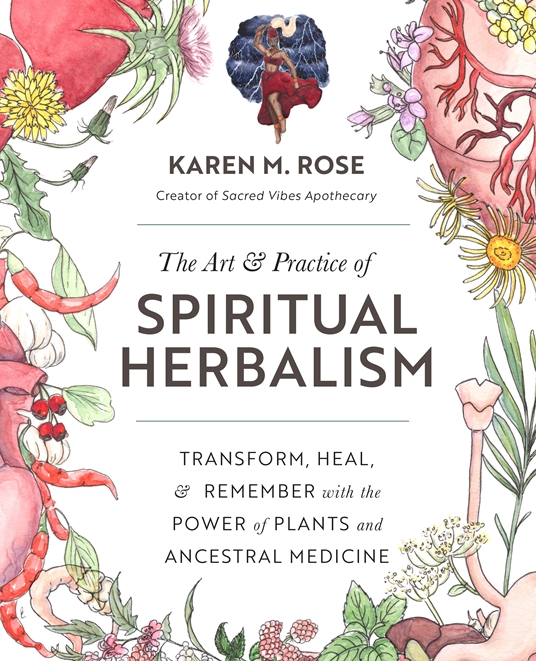 Her healing work reflects her ancestral knowledge and traditions as a first-generation immigrant from Guyana. These traditions and Rose's take on the emotional and spiritual aspects of our modern lives that can support or shatter the health of our various body systems are what make this book unique. Each chapter covers a different system and the herbs to support it (like many other herbalism books), but Rose weaves through "orishas," the body systems they guide, plants they are identified with, and colorful illustrations of them. This book is a great introduction for folks unfamiliar with orishas, the spirits that originate in the Yoruba religion and are key in many religions of the African diaspora. For those already familiar, Rose's work can strengthen their connection to orishas as healing guides.
The plant monographs include the typical botanical descriptions, habitat information, etc., as one might expect in an herbal book but different from most plant monographs is the planetary influence and planetary correspondence of each plant. Each chapter concludes with an ancestral practice and meditation. They range from honoring the moon cycle to setting oneself up to lucid dream.
Rose has an herb shop in Brooklyn, New York, so she's adept at working with people who might not have access to many herbs besides those available from her shop or the grocery store. She is sure to include herbs that people may have in their homes, like cayenne pepper and garlic, making the remedies easily accessible. She includes many recipes to guide folks in working with these herbs on their own.
Another herb she writes about is tulsi. Though often covered in modern herbal books, not one of the books I've reviewed was written by an author with an ancestral connection to the plant. Tulsi grew everywhere in the village in Guyana where she grew up. It is grown as an offering to the divine and her reverence for and teaching of tulsi comes from there.
Besides being full of the wisdom of plants, this book is full of general wisdom on how to live a healthful life. One of the suggestions Rose gives is to decolonize your routine. She speaks to how in our capitalist society we eat when work dictates and encourages folks to follow the rhythms that exist in us naturally. So many of us could benefit from changing the pace of our lives, but it can be hard in our current times. "The Art & Practice of Spiritual Herbalism" is a tool that supports readers to do so.
I wouldn't look to this book for information on how to grow herbs or for in-depth harvesting specifications, but I would reach for this book to delve into spiritual herbalism as the title suggests. It is a great read to widen one's scope of how to work with plants not just for their medicinal qualities but also for their support in a myriad of other ways.
Denise DeSpirito, Of the Spirit Herbals, Owls Head, Maine