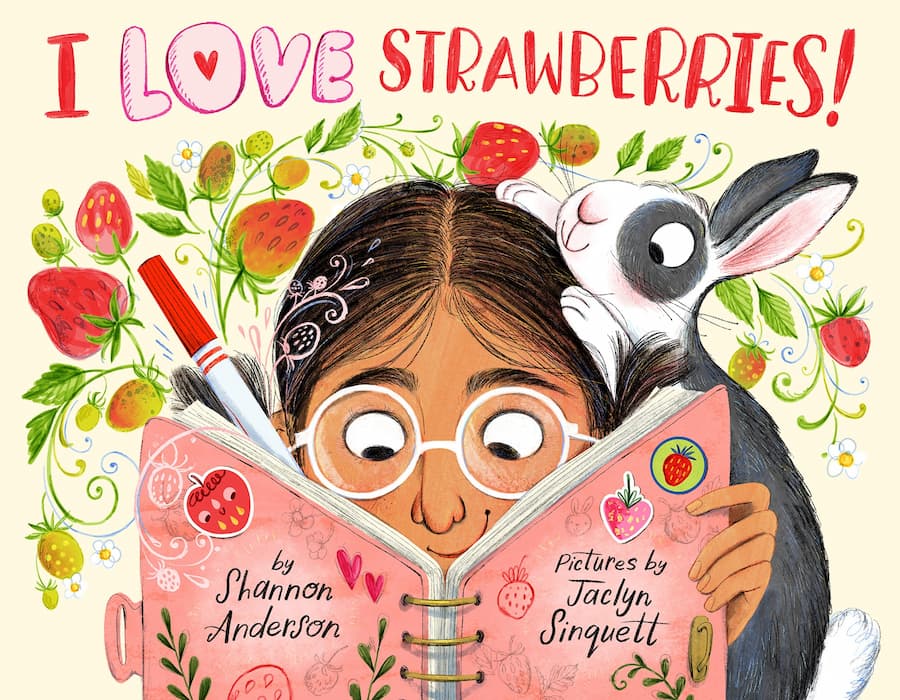 Jolie loves strawberries so much that she would eat them every day if she could. Her solution: to grow her own. But growing berries takes a lot of work, and mom and dad suggest she wait until she's older. Jolie doesn't want to wait. She wants to be "older" now! So she scribbles age lines across her forehead. When mom and dad see through that ruse, Jolie sets out on a mission. She will show her parents that she is able to take on the responsibilities of a berry grower. Step one: take over the job of feeding her pet rabbit and cleaning its cage. When her parents give her positive feedback, Jolie comes up with a list of other things she can do to demonstrate that she is "old enough" to grow strawberries.
I like the notebook Jolie keeps over the course of the story. She writes down her mission goals (for example, to earn money) and how she will accomplish it (by selling lemonade). On another page she writes an update, noting what went well or what didn't. If she does an experiment, she jots down notes and draws pictures of her results. And when she finally does get her very own strawberries to plant, there's a healthy dose of reality: bird attacks, insects, too many berries. (Seriously, Jolie? Too many?)
One of the things I look for in children's books is back matter — the extra stuff at the end of the book. Author Shannon Anderson provides tips on growing strawberries, explains how farmers use Integrated Pest Management (IPM), and includes a section on pick-your-own farms.
Another thing I like about this book is that the publisher's goal is to publish accurate and engaging books about agriculture, books that connect readers to where their food comes from and the farmers who grow it.
Sue Smith-Heavenrich, Candor, New York