In 2010, when Kristin Kimball's "The Dirty Life" came out, I was at the beginning of my farming life. With two summers of field work and dreams of owning my own farm taking root inside me, her memoir of falling in love with the land and her husband propelled me on my own journey.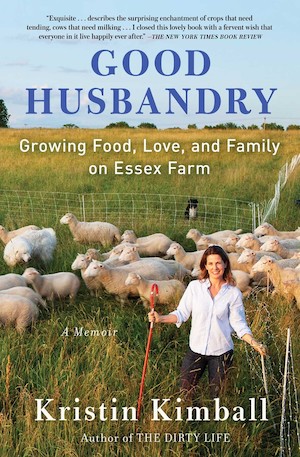 "Good Husbandry," her follow-up memoir, spans the years that come after, and while "The Dirty Life" acted as a springboard for many new farmers, Kimball's second book, newly out in paperback, is an offering to those in the middle years of raising a farm and a family. Amidst the books and courses promising a roadmap to six-figure farming, "Good Husbandry" roots into the deep questions of how one navigates not only the business of farming, but also the relationships with a spouse, children, employees and oneself.
I found myself nodding along with her questions, her worries and doubts. Was farm life fair to her children? Could her marriage withstand the needs of the farm, and could the farm withstand the strain on her marriage? How does a woman remain visible and active on a farm when pregnancy and motherhood upend the partnership that existed before children? And how do we keep moving forward when the reality doesn't match up with expectations?
"I had chosen farming when I was a fully mature adult who had seen a lot of the world and had other choices," Kimball writes. "What I couldn't have known back then was what it would feel like to have made this choice for a child too. What would she get as recompense for the hard parts?"
In one scene, their morning milker doesn't show up, leaving Kimball to wake and dress two sick children and go milk the cows with them in tow. When it ends in tears, spilled milk and a cow kicking Kristin in the knee, she writes: "This was not at all what I had pictured, way back at the beginning, when I imagined raising children on a farm."
In another scene, her mother visits and, standing in their dilapidated old farmhouse, says, "'You owe your child a better life than this." To which Kimball wonders, "What is a good life? Is a good life for me the same as a good life for my children? And what if we can't have both?"
Generous in her honesty, she brings readers beyond the romantic beginnings of Essex Farm in Essex, New York, and into unglamorous challenges that are often left out of conversations with enthusiastic young farmers. She takes us into the story of farming in a way that male authors cannot; exposing the tension of motherhood, the roles women play or push against, what happens when a shared dream goes out of balance, and how in the end, soil is both the invitation into the dirty life and the connecting, healing force that keeps a farm and family going. For anyone in the midst of raising children and growing a farm, this book is like salve for the weary soul — offering not a roadmap, but recognition, permission to question and the possibility of growth through even the hardest seasons.
– Kate Spring, Good Heart Farmstead, L3C, Worcester, Vermont