Erin Benzakein is a well-known flower grower, floral designer and award-winning author from Mt. Vernon, Washington. For years she has shared her vast knowledge of flowers through her workshops, books, very accessible and no-cost online videos, and online courses. Her latest book, "Floret Farm's Discovering Dahlias," is a treat from beginning to end.                                                  
The first thing that strikes you upon opening the book is the gorgeous, breath-taking photos of every type and color of dahlia that you can imagine. It could sit alone as a coffee table art book! But, lucky for dahlia lovers, the book also offers a wealth of information for home gardeners, flower farmers and floral designers. Benzakein begins with a primer on dahlia sizes and types, from best uses to color range. She then moves on to a soup-to-nuts explanation of what you need to know to successfully grow, care for and harvest dahlias, including storing the tubers in the fall.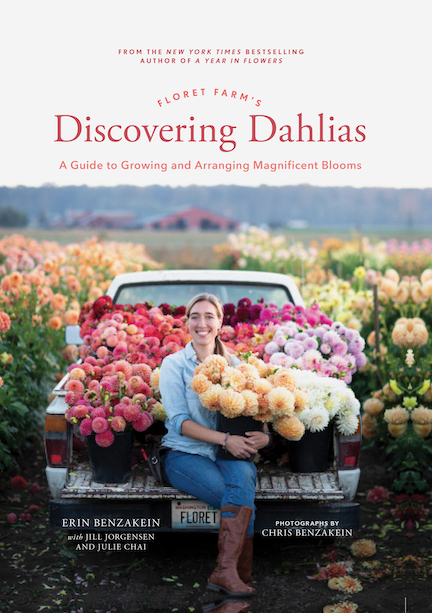 The chapter on advanced techniques is especially fascinating, taking you down several paths. One is propagating. A speedy way to increase your dahlia stock is by taking cuttings from tubers. Using this method, you can reproduce your favorite dahlias. By growing dahlias from seed, you can create an interesting, unknown mix. Seeds can be purchased from a variety of seed companies, but you also can collect your own and that process is described. Hybridizing is a technique Benzakein uses with the hope of creating a new variety. Benzakein does this by allowing bees to do the work of cross-pollination or by using the more time-consuming but also more exact method of pollinating by hand. She describes the patience and commitment that hybridizing requires. The first year she hybridized dahlias, she planted 1,600 seedlings, of which 150 looked promising; the second year, 27 did; and the third year, 12. Patience and commitment indeed!                                             
Benzakein then turns to the subject of designing, with page after page of beautiful arrangements accompanied by descriptions of what she wants to accomplish with each design. The last chapter of the book is a variety finder organized by color. She has chosen 360 favorite varieties out of the over 800 that she grows, all trialed and determined to be good for cutting. What a resource for designers! At the end of the book there is a list of purveyors of the supplies needed for growing dahlias.                        
This is a beautiful book – perfect for the target audience with its bounty of detailed information. It was a gift to read during mud season when I wondered if true spring would ever come. "Discovering Dahlias" gave me faith that it would, and we will soon have our hands in the dirt.
– Karen Volckhausen, Happy Town Farm, Orland, Maine