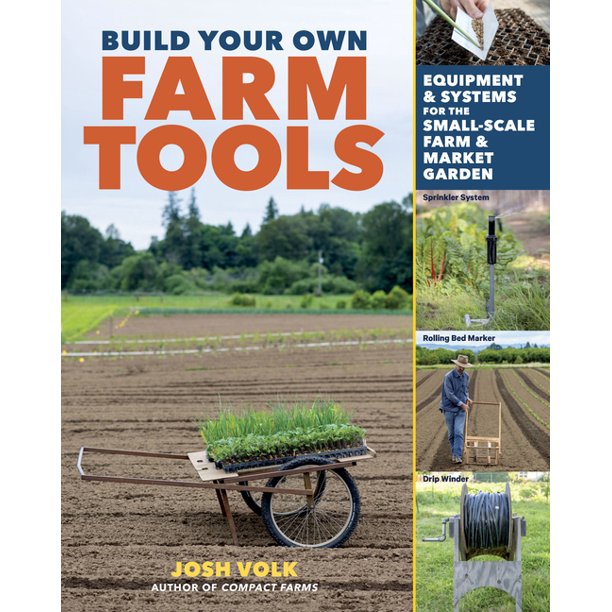 I have to admit that I was a little taken back when I first glanced at "Build Your Own Farm Tools." For some time now I have followed, with great interest, articles posted by Jeff Volk online, and yet here was something different. What I first failed to see was that this is a book to support a different audience, one less confident or at least less initiated in the process of constructing things. For that group, it is a go-to resource guide to building and equipping one's farm with a multitude of time- and back-saving projects. From small ideas like a glove-drying rack to larger and more complicated ones like a root-crop washer, Volk gives clear instructions. He suggests frugal use of building materials and often promotes readily available materials to speed the process along.
Volk is also very diligent in taking the time to carefully explain how to work with some tools and materials and introduces some key building concepts — something a good teacher/carpenter would want you to learn to enhance your capability. He's the shop teacher that you would want to bring out to your farm and the farmer that you'd want to bring into your shop.
I picked up a few pointers around spreadsheet use and have bookmarked a couple of his other projects for future reference. His consumer-driven design of the popular K-Line moveable irrigation system looks to be a winner.
One thing that Volk mentions is the rewards of making one-on-one contact with a knowledgeable farmer. I am happy to say that MOFGA's Journeyperson Program does just that, connecting an inexperienced farmer to an experienced one and fostering interpersonal exchanges through the journeyperson listserv and the annual Farmer to Farmer Conference. In the absence of such a community, this book will likely kickstart your confidence, while building your competence, and set the stage for success on your farm.
– Jack Kertesz