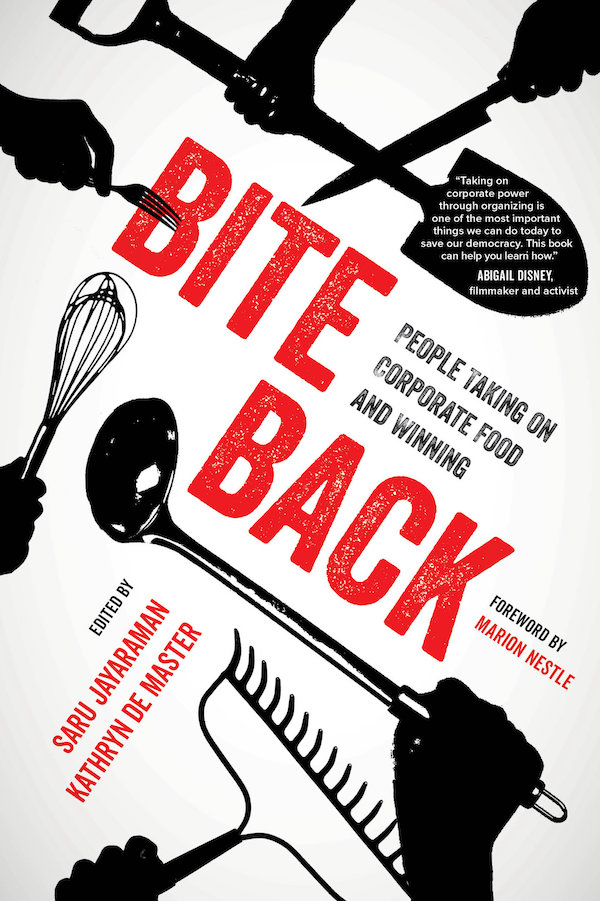 Years ago as a graduate student navigating a faculty-student social mixer, I asked a respected professor about his subject of expertise. After a moment's reflection, he patiently explained that my question was misleading, that all subjects are interconnected portals to understanding collective experience. Reading "Bite Back: People Taking on Corporate Food and Winning,"edited by Saru Jayaraman and Kathryn De Master, felt very much like entering one of these portals.
Structured around seven key aspects of our food system, the editors curated companion chapters of academic research and activist efforts. These pairings highlight the problems of corporate control and activist efforts to challenge the tremendous power of a few. The collection makes clear that entering the portal of food systems opens into a profoundly complex matrix of interconnected systems ranging from the politics of globalization, gender, race, class, colonialization, worker rights, fossil fuels, health, law, and even what should be considered science.
The editors integrate examples of activists confronting corporate power, reminders that collective organizing is the key to change. For example, the grassroots science of Pesticide Action Network's Drift Catchers data collection work circumvents the corporate funding of pesticide safety research. Consider the impact of grassroots-turned-national-organization Restaurant Opportunities Centers United that successfully advocated for the rights of food workers (the restaurant industry is the largest employer within the U.S. food system) despite continued intimidation and harassment by the powerful National Restaurant Association. Jayaraman and De Master conclude the book with an appendix, "Taking Action to Create Change" by Judy Hertz, a community organizer based in Chicago. It includes a hands-on strategy chart with goals, considerations and tactics to empower all of us to speak truth to power.
"Bite Back" is a valuable source that brings together research, activism and strategies for action. As a worker from a chicken processing plant who was interviewed said, "We are not machines, we are human beings with hearts." It is imperative that we remind the few who control our food system that people with hearts embody corporate decisions, and that challenging this inequity of power and control is essential to our future.
Catherine Preston-Schreck, Bar Harbor, Maine