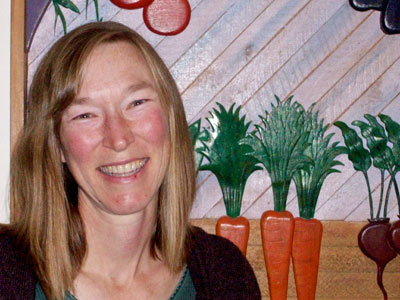 Erin Bibles. Photo by Betsy Garrold.
By Betsy Garrold
Erin Bibles and her husband, Brent, led a peripatetic life before settling at their Thorndike farm, Mélange Métairie (Mixed Small Holding). They met at the University of Arizona and moved to Oregon when Brent, a wildlife biologist, got a job at Oregon State University. Erin finished her wildlife management degree there, and they moved about every few years after that following Brent's teaching jobs and always looking for a place to start their homestead.
Their last stop before Maine was Vernal, Utah, where they had a large garden, chickens, made their own yogurt and bread and shopped at the local farmers' market.
When Brent was offered a position at Unity College, they came to Maine and found a good piece of land. They feel settled now, and Erin has launched wholeheartedly into making their "small holding" a self-sufficient off-grid home.
This year they finished a root cellar for storing winter crops and a greenhouse with a rocket stove and thermal mass bench for starting their seedlings in the spring. They raise chickens and meat rabbits and have a quarter-acre garden that Erin laughingly says seems huge, because their whole lot in Vernal was only a quarter acre. Their traditionally inspired saltbox home is solar-powered with propane backup, and they have an indoor humanure bathroom.
They lease their pasture to neighboring Lor Farm for its dairy sheep and goats. Both the animals and the pasture are MOFGA certified organic by Lor Farm, which is important to the Bibles.
Erin has been a member of the Farm & Homestead Day Rabble Rousing Committee, which coordinates and runs Farm & Homestead Day at MOFGA every June. Erin recalls that Nancy Rosalie recruited her to help, and she was happy to do it, because she believes it is such a meaningful event and "an important opportunity to learn new homesteading skills and share those that I have developed over the years; a chance to get real hands-on experience and to learn new or different ways to do things."
Anu Dudley, chair of the committee, says of Erin, "You know what really impresses me is that her expertise comes from personal experience, which is so important to Farm & Homestead Day."
Erin says she sees Farm & Homestead Day as a place to meet "people who are doing what Brent and I are doing, who have skills to share with me or who may want to learn skills that I can share with them."
Farm & Homestead Day 2015 is scheduled for June 13. Erin and the rest of the Rabble hope to see you there.