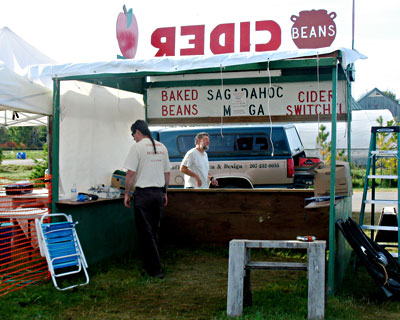 Most MOFGA members are familiar with the Sagadahoc MOFGA chapter through its booth at the Common Ground Country Fair, shown here being erected by Jeremy Blaiklock and George Sergeant. Photo courtesy of George Sergeant.
Thirty-Five Years, Thirty-Five Fairs, Seven Community Gardens and Abundant Good Energy
By Jean English
The Sagadahoc chapter of MOFGA celebrated its 35 years of fruitful activities in October 2011 at the Chewonki Foundation's beautiful Chapin Hall in Wiscasset. Russell Libby, MOFGA's executive director, said that when he joined the MOFGA board, 10 county chapters existed. Now the Knox-Lincoln chapter is sometimes active; the Waldo County chapter holds regular meetings; Cumberland and York counties are reviving their chapters; but "Sagadahoc has been constant the whole time."
Not just constant but productive as well.
"The crew shows up at the Common Ground Fair each year," said Libby. "MOFGA is grateful for the picnic tables and benches the chapter has made; for sponsoring an Agricultural Demonstrations tent each year; and for providing several MOFGA board members over the years." They've provided board officers, as well, including Don Lipfert, who served as MOFGA president, and Sue Sergeant, who served as secretary and chapter representative. In 2011, the chapter also donated $2,500 to MOFGA toward its Common Ground Education Center.
The chapter began in Woolwich in 1976 after Don and Berenice Knight had attended the Maine Agricultural Trades Show, where they came across the MOFGA booth. "We were organic farmers," said Berenice at the anniversary party. "We were delighted to find the booth and the little publication MOFGA had. We sacrificed $10 to join."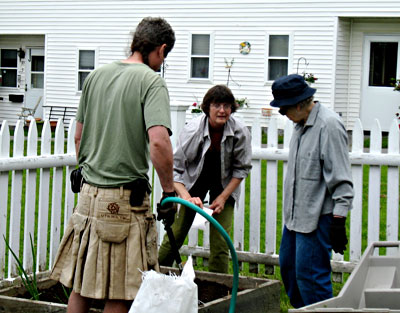 Jeremy Blaiklock, Judy Schuppien and Sally Fesler prepare a community garden plot for seniors in Bath. Photo courtesy of George Sergeant.
Later Berenice wrote to MOFGA saying how thankful the Knights were for the organization's existence. She received a reply from Chaitanya York, MOFGA's first executive director, who suggested they start a MOFGA chapter in Sagadahoc County.
The first meeting, at Day's Ferry Community Club in Woolwich, included about a dozen participants and a potluck, flavored with a marble pound cake that Berenice made using goose eggs.
"We always had a potluck," said Berenice. "I think we meet around food. I think that that's important."
George and Sue Sergeant say that the group's only potluck mishap was a May meeting featuring only rhubarb pie or crisp.
The chapter attended the first Common Ground Fair in 1978 in Litchfield, selling cider, apples and high-energy snack bars that the members made at their August meeting. When the Fair moved to Windsor in 1981, the Sagadahoc Chapter was there, too, where, in 1996, it started selling baked beans. It's had a booth selling baked beans and apple cider in Unity every year as well, always striving to bring healthful food to fairgoers at an affordable price, and to make money for chapter activities.
The economics didn't always work out. "We sold those snack bars for 50 cents," said Russell Schneider, current president of the chapter. "I think we lost 25 cents on each." They stopped selling those in 1987.
The group meets for various activities throughout the year, including cider pressing, which it started to do in 1983. Members bring their apples, and everyone has a chance to press them using a chopper and cider press that they bought as a group.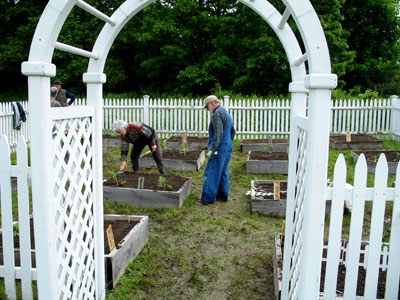 Sue Sergeant and Bill Hodsden plant tomatoes at a community garden in Bath, while Jeremy Blaiklock and Mario Pascarelli (back left) discuss garden matters. Photo courtesy of George Sergeant.
From 1996 to 1998, members enjoyed taking mushroom walks together. From 2000 to 2002, they gleaned food from fields at Swango Farm in Woolwich. In 2002 they had an apple tree pruning workshop in West Bath.
They usually host at least one speaker each year, advertised to the general public. Speakers have included John Bunker, Eric Sideman, Will Bonsall and many others.
Whatever their activities, the chapter consistently draws 15 to 35 members to each meeting – "members with a remarkable diversity of skills and ideas," says George Sergeant, "which allows us to do so many different things well.
"We have members from Edgecomb to Durham and Monmouth, and from Freeport to Pittston," adds George; "many have moved but stayed active."
The chapter reaches out not just to the MOFGA "mother ship," as Schneider called MOFGA's Unity headquarters, but also to its own community. It supports school gardens in Dresden, Wiscasset and Bath; two gardens at The Anchorage, a housing complex for seniors in Bath (where residents love to harvest their own plots, which the MOFGA chapter plants and helps maintain); and a garden at Two Bridges Jail in Wiscasset. It also supports a therapeutic garden at Equine Journeys, a therapeutic driving center in Bridgton.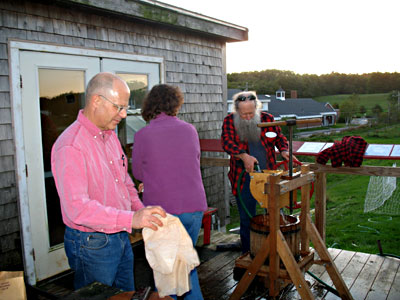 Dan Sortwell, Judy Schuppien and Bob Fesler press apples at the Morris Farm during a Sagadahoc chapter meeting. John Bunker spoke at this meeting. Photo courtesy of George Sergeant.
The gardens enable a diverse group of people to participate in growing good food. School children learn where food comes from, and their gardens provide many lessons in science. The jail residents also enjoy healthy food and are afforded an opportunity to do something positive for members of the community. Instead of taking, they give back. Clients at Equine Journeys are primarily developmentally delayed adults who would never have this gardening experience if not for the generosity of the Sagadahoc chapter. The clients plant, weed and harvest healthy food to take home.
The chapter's one booth at the Fair – "all those beans," says chapter member Mario Pascarelli – supports all those gardens and donations to MOFGA. He explains that a member of the chapter is responsible for organizing contributions to each garden in various towns.
The energy of the Sagadahoc Chapter seems to have been evident from its beginnings. Its 14-page typewritten 1978 Annual Yearbook and Directory listed 60 members (who each paid dues of $1 to join); sources for compost and mulch materials, seeds and plants, soil amendments, bees and bee supplies, home brewing supplies, local certified growers and farmers' markets, and helpful people and agencies. It featured articles on dooryard weeds, solar food dryers, solar greenhouses, and seed starting, and it had an almanac of daylengths, full moons, frost dates and mean temperatures.
The 1978 publication also included a Chinese verse from 2,500 BCE – words that seem to characterize the chapter well:
When the sun rises, I go to work
When the sun goes down, I take my rest
I dig the well from which I drink
I farm the soil that yields my food
I share creation
Kings can do no more.
George and Sue Sergeant, Mario Pascarelli and Berenice Knight contributed to this article.
---
About MOFGA Chapters
Four MOFGA county chapters are active:
Cumberland County; contact Jeremy Bloom, 84 Carleton St., #27, Portland, ME 04102. 207-272-0443. [email protected] or [email protected].
Midcoast; contact Christine Baker, Thomas Hill Farm, 71 George Luce Rd., Waldoboro, ME 04572. 207-832-5258. [email protected].
Sagadahoc County; contact Dan Sortwell, P.O. Box 269, Wiscasset, ME 04578. 207-882-6374.
Waldo County; contact Jaco Schravesande-Gardei, MOFGA, P.O. Box 170, Unity, ME 04988. 207-568-4142. [email protected].
Chapter activities vary but may include educational talks and demonstrations, social events, cooperative buying orders and fundraising efforts.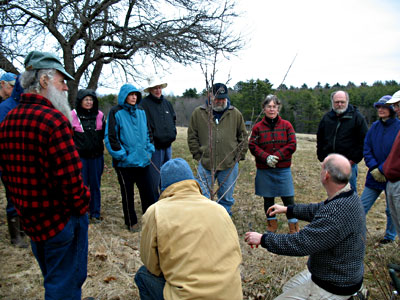 Bath city arborist Tom Hoerth demonstrates tree pruning to Bob and Sally Fesler, Deb Miller, Nancy Hall, Russ and Ann Schneider, Phil Brzozowski, Judy Schuppien and Dan Sortwell. Photo courtesy of George Sergeant.
Any MOFGA member may request that the board of directors recognize a new chapter to serve his or her local area. Likewise, any group of members may ask the board of directors to recognize a new chapter focused on a particular agricultural economic sector. Such chapters may have membership requirements that are more restrictive than the general membership requirements for MOFGA, as long as those requirements focus on clearly defining the membership of the chapter based on agricultural economics or activities.
If you are interested in starting a new MOFGA chapter, please send a written proposal to MOFGA's board secretary, JoAnn Myers ([email protected]), stating the geographic or economic sector to be served, the number of active and potential participants in the proposed chapter, the proposed frequency of meetings, and any other relevant information to help the board in determining approval of the chapter.
One of the ways that MOFGA is celebrating its 40th anniversary is by hosting outreach meetings in each of Maine's 16 counties. These are opportunities for MOFGA members to visit with the MOFGA staff members, learn about our policy work and organizing activities, and to meet with fellow members from different regions of the state. Stay tuned to MOFGA's weekly email bulletin or call the MOFGA office for information about upcoming county meetings.