By Ivonne Vazquez
A recent conversation at the farmers' market made me think about my own journey as a gardener, grower and now a small-acreage diversified farmer.
Someone was interested in the native plants I sell but was concerned about not having space as a renter to grow a garden. As a proponent of gardening in containers, I explained that almost anything can be grown in a plant pot and went on to state something I wholeheartedly believe, "Never allow the lack of permanence keep you from the joy of gardening."
I explained that for many years I, too, had been a renter and learned to be very creative in my past gardening efforts.
Upon reflection, my journey as a grower has taken a lifetime. But it is within the last 20 years that it has truly developed … and it all started with a container garden.
In 2002, I was a single mother with three children, one of whom was a year old. I worked full-time and volunteered at the town library, but at the end of the day, and not unlike so many families today, there was little left (sometimes nothing) in the budget for extras.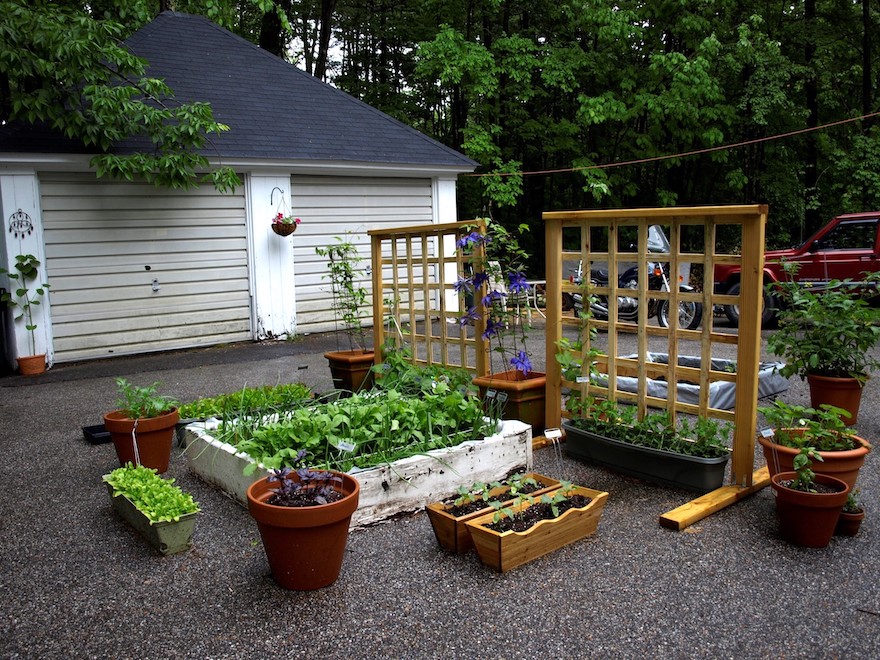 We had just come through a terrible family experience and, after months of hardship, found ourselves living in a very small and very lovely three-bedroom ranch house in the greater Portland area. Built in the 1960s, it had a bonus space: a carport with a concrete base, a roof, corner posts and no walls. While many might wonder what to do with a space that is neither a garage nor a porch, I saw only possibilities.
After living in the house for a few months, I asked the landlord if I could use the space to create an outdoor living area with plants and a rocking bench. "Sure," he said, although I do not think he was quite sure why I wouldn't use it for my car.
A few packets of seeds, plants from the clearance section, a bag of potting soil, and plant pots from discount stores and yard sales opened a world of possibilities for myself and my children. I could not provide many extras or man-made luxuries, but I could give them butterflies and bees, pretty flowers, and tomatoes from the vine. This was the beginning of my grower's journey.
I planted impatiens, petunias, strawberries and herbs. I found a patio table and chairs for almost no cost, and our little sanctuary was born. Within a couple of weeks, we began to see hummingbirds, bumble bees, butterflies, crickets and birds in our carport oasis. My children would sit outside to read and run into the house to let me know that they'd seen a butterfly or a hummingbird. We would take summer meals out there, surrounded by plants and pollinators.
We enjoyed this magical space for a few years, expanding it into a 16-by-16-foot area for a larger garden that we cultivated until moving to another rental closer to my children's schools.
At our new home, there was a patch of grass measuring 2 by 3 feet in partial sun behind the back steps. I asked the landlord if I could plant an herb garden. "Sure," he said. This landlord went as far as to bring in additional soil and compost and rake it in for me. The herbs grew well, but I longed for more gardening space.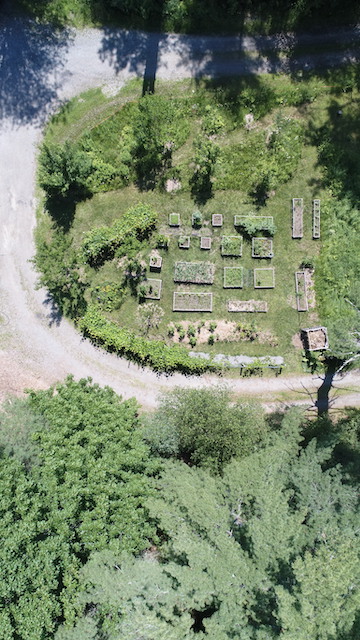 The area behind the house (a duplex) had a driveway that covered all but a small strip of grass. The best sunlight was right in the middle of the tarmac. Never daunted by what may seem impossible, I started a new container garden. I asked if I could have a disused 4-by-4-foot sandbox, and my first square foot garden was born. We grew basil, parsley, mini carrots, peppers, oregano and lettuce in the box, and planted raspberries, blueberries, grapes and tomatoes in pots. My youngest, who was five at the time, would take neighborhood children on a tour of the garden. My teenagers would sit near the potted flowers to read, relax, observe and draw.
After my eldest children went off to college, we purchased our own home — no more renting. Here my husband, my youngest son and I have managed a large garden with raised beds we built ourselves. In 2021, we transitioned from homesteading to farming with several enterprises including permaculture design consulting, culinary mushrooms and a native plant nursery.
However, my grower's journey does not end at the edge of my nursery.
Over the past few years, I have taught basic gardening classes; volunteered as a Master Gardener; written DIY garden articles; led workshops on a variety of growing topics; and spoken before garden clubs and other groups about, you guessed it, gardening. In 2022, our small farm was the recipient of the North American Pollinator Protection Campaign Farmer-Ranch USA award for our pollinator habitat efforts. In May of 2023, it was my honor and pleasure to teach a beginner gardening class, with the support of MOFGA, entirely in Spanish to a most eager and receptive audience. Using my first language skills in conjunction with my favorite topic equals a dream come true.
The day before I wrote this, at another farmers' market, a former gardening class attendee visited my booth. Excitedly this young person told me about his growing journey over the course of the past two years since taking my class: great enthusiasm and love of gardening he now shares with his beautiful little daughter. Together they tend to and enjoy their garden.
Another grower's journey has begun.
Ivonne Vazquez (she/her/ella) is passionate about native plants, herbs, pollinators, DIY, sustainability, the environment and the outdoors. She co-owns Bas Rouge Farm & Forge in Orono, Maine, and is a first-year participant in the 2023 MOFGA Journeyperson Program. For more information visit basrougefarm.com or @basrougefarmforge on Instagram.
This article was originally published in the fall 2023 issue of The Maine Organic Farmer & Gardener.