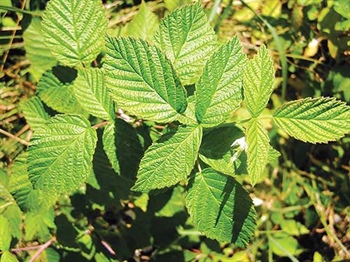 Raspberry leaves
June 1, 2020
Amid the harvest of tomatoes, green beans, broccoli and other veggies this summer, take some time to harvest the makings for tea. An hour or two spent harvesting the leaves of raspberry, mint and other plants, then drying them, can save several dollars in herbal tea bills throughout the year, can provide a good haul for gift giving, and can produce a healthful beverage.
Raspberry leaves, for example, make a good tea. Harvest them from wild raspberry plants; leave the leaves on your cultivated plants to nourish the roots that will send up shoots for later raspberry harvests. Wild plants that aren't growing along a roadside will have cleaner leaves. Herbalists recommend this tea for the high vitamin and mineral content of raspberry leaves. Spread fresh leaves on a screen in a well-ventilated place that is out of direct sunlight to dry. If the weather turns humid, finish drying the leaves in the oven after you've baked something and the oven is cooling. Store dried leaves in a glass jar.
Other plants that are useful for teas include catnip, bee balm, lemon balm, spearmint, peppermint, dandelion leaves, oat straw, chamomile flowers, stinging nettle leaves, rosemary leaves, lemongrass and more.  Experiment with mixtures of herbs flavored with orange or lemon peel (organic, to avoid pesticide residues), cloves, cinnamon or other spices; or try combining an herb or two with black tea.