By Roberta Bailey
Happy 50th birthday, MOFGA. Few remember a time before MOFGA was a part of Maine. It has become the mycelium that connects and enriches all of Maine's community, from gardeners, farmers, artists, co-ops, apprentices and journey-folk to businesses and fairgoers. As with mycelia, MOFGA extends the reach of our roots and furthers our nourishment, while we all give back, feeding and building the web of connections. It is a vital, symbiotic relationship that helps define the state of Maine today.
I have written for The MOF&G for 37 years now. Over the years, I have written to advocate that people should consider growing garlic, and to explain what tofu is and how to make it, and to encourage people to start a sour dough, and to encourage enjoyment of lacto-fermented foods beyond sauerkraut, and to eat by the seasons and seek out locally grown foods. There was a time when all of this was new to us all. MOFGA has helped us to teach, to learn, to share our common experiences.
Lately I marvel over what is available in Maine: CSAs (including those offering meat and fish), roadside stands, farmers' markets, high tunnels for year-round production of greens, artisanal breads, dairy and cheeses, locally grown and milled grains, local tofu, mushrooms, fermented foods, wines, hard ciders, and beers. MOFGA is inextricably interwoven into all these organic ventures and so much more. One farmer no longer has to do it all. One can rely on the strength of the MOFGA community. The community has your back when your winter squash crop comes up short or your greenhouse crops get frost-nipped and you need to replace some paste tomato seedlings.
As an aging farmer who has always eaten organic food, I rest assured that sources of well-grown food will be available when I decide it is time to scale back my own productions.
Here is one small piece of MOFGA's 50-year history. In the late 1970s and into the 1990s, MOFGA's tri-county chapter included the corners of Aroostook, Penobscot and Washington Counties. At the core of the chapter were three farms, one in each county, each about 35 to 45 miles apart, though neighbors in that part of the state where organic farms were scarce. Our chapter meetings were often work parties to clear brush or shingle a building, or group seed-ordering meetings; occasionally we would have a guest speaker or rent a movie from the Maine State Library.
Out of this connection came the idea to do a food booth at the Common Ground Country Fair. The Better Hummus and Gardens booth sold hummus and pita bread sandwiches, tabouli salad, hot and cold cider, mint tea, blueberry smoothies and a vegan cream of broccoli (or carrot or cauliflower) soup. We used the produce we grew on our farms, cider we pressed together, and berries we had raked together and froze ahead of time. We would gather for a week of prep before the Fair. We did not have food processors and used manual rotary cutters called "Salad Masters" to prep vegetables. We used our pressure canners to cook the beans and large meat grinders to puree them. Ingredients were stored in 4-gallon buckets in a string of refrigerators. Then we would load those refrigerators onto a truck and travel south to the fairground in Litchfield, and later to Windsor, where the Fair was held back then. We would finish prepping food each night and morning, using space in a refrigerator truck owned by Peg and Matthew Strong (of Strong's eggrolls) to chill the food. Our young children roamed the Fair, trading hummus pockets for pie cones or pizza or popcorn.
Here are the approximate recipes from Better Hummus and Gardens, many adapted from "Moosewood Cookbook" by Mollie Katzen, which was one of few natural food cookbooks at the time.
Hummus
Makes 3 to 3 1/2 cups
1-2 cloves garlic
1 c. chopped parsley or cilantro (adjust to taste)
2 scallions, chopped in small segments
3 c. cooked chickpeas (garbanzo beans)
¼ c. olive or canola oil
6 Tbsp. tahini
6 Tbsp. lemon juice
½-1 tsp. sea salt
½-1 tsp. ground cumin
¼ tsp. ground cayenne pepper (optional)
Place garlic in a food processor, blend, then add the parsley (or cilantro) and scallions and blend until minced. Add chickpeas, tahini, oil, lemon juice, cumin, cayenne (if desired) and salt. Puree until smooth. Season to taste. Store in covered container in the fridge.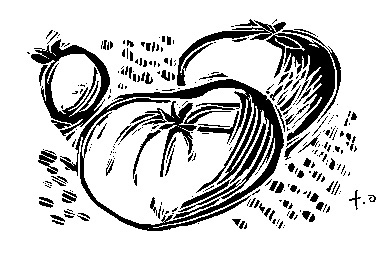 Tabouli
Makes 6 to 7 servings
1 c. bulgur wheat (see note below to substitute quinoa)
1 ½ c. boiling water (can also use cold water and soak bulgur overnight)
1 tsp. sea salt
¼-½ c. fresh lemon juice (2-3 lemons)
¼-⅓ c. olive oil
2 cloves garlic
4 scallions or about 20 chives
1 c. chopped parsley
10-15 fresh peppermint or spearmint leaves (or 1-2 tsp. dried mint)
2 ripe tomatoes or 1 pint cherry tomatoes
1 cucumber, diced (optional)
Shelled peas (optional)
Grated carrot (optional)
Pour boiling water over the bulgur and let set for 30-60 minutes. As bulgur is pre-cooked, it can also be soaked overnight in cold water. (To use quinoa instead, cook 1 cup of rinsed quinoa in 2 cups water. Bring water to boil, add quinoa and simmer until the water level dips below the grain level, then shut off the heat. The grain will finish cooking and absorb the remaining water.) Cool grain to room temperature then chill if desired.
In a food processor, mince the scallion or chives, garlic, parsley and fresh mint (dried mint can be added to cooled grain). Mix with cooled grain. Add salt and lemon juice and olive oil. Adjust to taste. This mix can be chilled for later use or prepared further and served immediately.
One can add tomato, cucumber, fresh peas, grated carrot, or leave it as is. Serve chilled or room temperature.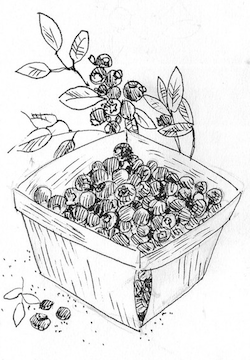 Blueberry Smoothie
Makes about 4 to 6 cups
1 c. raw cashews or hulled sunflower seeds
2 c. frozen blueberries
2 c. water or rice/almond milk or other liquid
½ tsp. vanilla extract
¼-½ c. honey or maple syrup (to taste)
In a blender or food processor, grind or puree cashews or sunflower seeds to a fine meal. Add the liquid, sweetener and vanilla extract. Add the frozen berries and puree to a smooth
consistency. Taste and adjust sweetness if necessary. Serve immediately.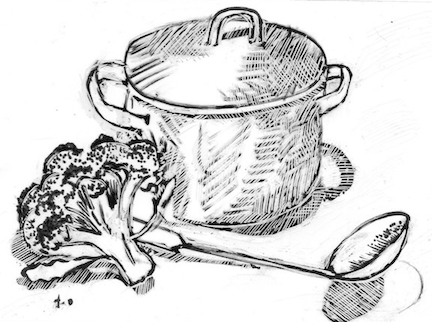 Vegan Cream of Broccoli Soup
Makes 6 servings
1 c. diced onion
1 c. chopped mushrooms
1-2 cloves garlic, minced
2-3 Tbsp. vegetable or olive oil
3-4 c. vegetable stock or water
3 c. chopped broccoli (some stem is ok)
1 c. rolled oats (more if a very thick soup is desired)
1 c. grated carrot
1 tsp. dried basil
2 Tbsp. nutritional yeast flakes
1 tsp. sea salt
In a heavy soup pot, saute onions, mushrooms and garlic in oil until translucent. Add the stock, rolled oats, and broccoli and cook until soft. Puree the soup with an immersion blender or in a blender or food processor. (If a thicker soup is desired, one can use oat flour or grind some rolled oats, add them to enough water to make a thin paste, then stir this into the soup.) Add the basil, grated carrot, nutritional yeast and salt. Let simmer 15 minutes. Adjust seasonings.
About the author: Roberta grows an abundance of produce and saves seeds at her Seven Tree Farm in Vassalboro, Maine. She is the longest-running columnist for The MOF&G.