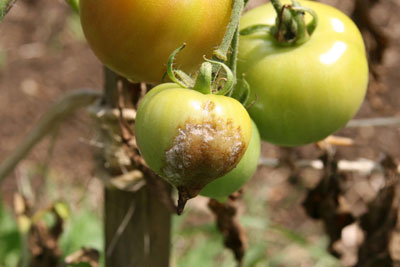 Late blight symptoms on tomato leaves
Late Blight Alert – August 11, 2015
My vigilance increases as late blight reports get closer. Late blight has been found on tomatoes in Maine. Two new reports north and west of Bangor, and rainy weather coming, means my vigilance is at a high level. I have been scouting my tomatoes daily.
If you need a refresher on symptoms on tomato leaves, look at the photos on this page.
If you suspect you have late blight, even after you look at these pictures, and you do not remember the drill, get in touch with me, or check out the discussion in the tomato chapter in the "Resource Guide for Organic Insect and Disease Management" (https://web.pppmb.cals.cornell.edu/resourceguide/).