By Laura Sieger
This summer marks the Maine Heritage Orchard's 10-year anniversary. It's pretty wild that a decade ago Dennis Jones and crew were shaping the old spent gravel pit into a terraced, plantable landscape that would become the Maine Heritage Orchard. John Bunker and Russell Libby had campaigned for a space to be used to house a collection of Maine's rare and historic apples and pears. MOFGA's open land was mostly used for other programming. The hayfields are coveted for the festivities and parking during the Common Ground Country Fair, but a parcel of land that contained the abandoned gravel pit became the 10-acre dream orchard, as well as a vital land reclamation project.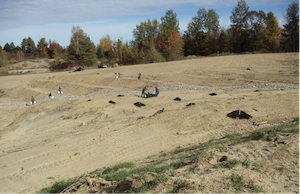 MOFGA's orchard committee knew this wouldn't be the ideal site to host these special fruit trees, but they were up to the challenge. The group worked with the Natural Resources Conservation Service (NRCS) and the Maine permaculture community to develop an innovative plan to renovate the site. The idea was to build the soil back slowly, rather than trucking in tons of topsoil robbed from another ecosystem. The terraced understory was seeded thoughtfully. The fruit trees were grafted onto robustly rooted standard-size Antonovka rootstock, diminishing the need for irrigation. Woodchip swales and riprap spillways were installed to slow erosion and promote fungal duff. Hundreds of woody and herbaceous companions were planted to help hold what little dirt was there in place.
On Earth Day in 2014 the first hundred trees were planted by a hardy and energetic group of volunteers. It was quite a sight to see people of all ages scattered across the barren landscape moving loads of compost, hauling buckets of water, and planting little apple trees. By the summer of 2016 the orchard was really beginning to take shape — the land was buzzing with life. Pollinators were making their homes amongst the creeping thyme, monarda, goldenrod and baptisia. Erosion on the steepest banks had slowed and the pond began to clear up.
Over the next few years, the orchard grew in number and in size. In 2018 the orchard became an official program of MOFGA. With nearly 300 trees in the ground more labor was needed than a volunteer committee could muster. A small staff was hired to keep up with the grounds work and the educational orchard programming. The Maine Heritage Orchard was becoming an inspiration for tree fruit enthusiasts across the country.
Though the apple and pear trees were given a pretty cushy start — large planting holes filled with generous heaps of compost, a careful selection of soil amendments, and a heavy covering of wood chip mulch inoculated with beneficial fungi and microbes to promote the establishment of mycelial connections underground — their roots eventually grew beyond those holes and into the depleted clay and sandy soils. A few trees each year perished from the usual causes of young fruit tree death, but most of them seemed to grow just fine.
As you can imagine, the challenges of renovating a severely malnourished landscape are many. In July of 2022 we lost about 25 trees with no clear cause of death. Our current thinking is that a decade of growing in depleted soils, along with repeat winter injury, years of drought and the erratic climate, is finally catching up with the fragile collection. Remarkably enough, many trees still seem to be thriving. It's only anecdotal evidence to speculate that the stand-out varieties may be climate resilient or truly locally adapted for the increasingly unstable growing conditions we're working with, but we'll continue to watch these trees closely and keep good notes.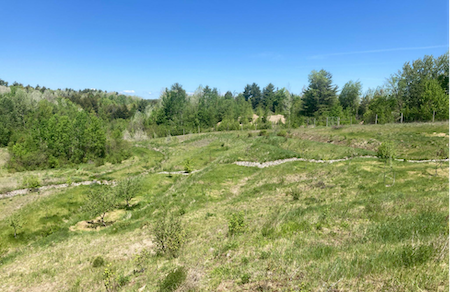 Meanwhile, the now-renowned collection of Maine's rare apple and pear trees continues to increase each year. We're finding more ancient apple trees all over the state. We're collaborating with other collections — both public and private — around the country and the world. We've been working with Washington State University to DNA profile the entire apple collection, and have sent a few samples of provisionally identified pears to the National Clonal Germplasm Repository in Corvallis, Oregon, for genetic identification as well. These findings are dramatically increasing our understanding of the ancestry of apples as well as the history of fruit growing in Maine and North America. We're getting better at documenting all pertinent details for each accession we have in the collection, and we've assigned a conservation status number to each tree. We've also begun to implement additional back-up strategies for preserving the most endangered varieties. Early April of this year we grafted two each of the 100 rarest cultivars. In May we grafted about 50 of them onto a block of trees at The Apple Farm in Fairfield. These and other measures will ensure that the collection is preserved for the future.
This spring C.J. Walke returned to MOFGA, stepping into the role of orchard programs manager. We're excited to have him join the team, bringing years of orchard experience. Lauren Cormier is with us again this year, moving our pear research forward and introducing dozens of new perennials to the orchard understory. We're still working on building organic material in the soil, informed by ongoing soil tests and plant sap analysis. We're trialing some different irrigation systems, and continuing to implement our holistic and organic spray program. We welcome you to volunteer at the orchard, take a walk or come have a picnic any time.
And so, our work continues as the gravel pit continues to heal. Our hope is that the most endangered varieties in the collection will be planted on a more suitable orchard site elsewhere on the MOFGA campus. Those plans are yet to be worked out. The collection will find the protection it deserves. A few decades from now, I imagine bushels of apples and pears growing on incredibly resilient trees. People make their way down the terraces to collect fruit from these once rare varieties. The many dozens of us who planted those young whips decades ago get to share a smile as we think about the care, attention and tremendous (maybe slightly naive) hope put into that site from the beginning. Scionwood is shared freely with hobbyist and commercial orchardists so that local markets are teeming with what were once uncommon cultivars. The trees grafted by farmers generations before us become well known again, for generations to come.
This article was published in the summer 2023 issue of The Maine Organic Farmer & Gardener, MOFGA's quarterly publication.