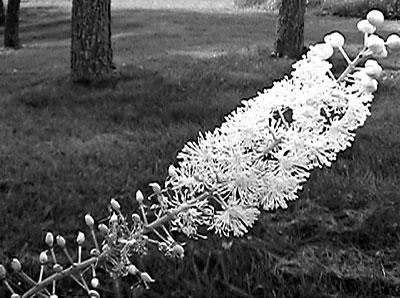 Black cohosh leaves and flowers. English photos.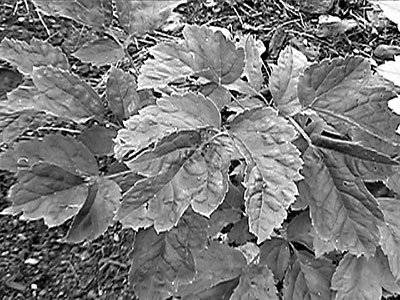 In the early '80s, while studying the native medicinal plants of North Carolina, I first met black cohosh. I found it growing wild in the Appalachian Mountains. Its 4- to 5-foot-tall, white flowering spires (racemes) were stunning to come upon in the grand forests. I immediately took a liking to this plant. A few years later, I transplanted two young plants into my garden. Fourteen years later, these plants have spread by roots to fill a 13- by 10- foot area with over 100 flowering racemes.
What is Black Cohosh?
Black cohosh (Cimicifuga racemosa) is a hardy, woodland, long-lived, herbaceous perennial. A member of the Ranunculaceae family, black cohosh ranges from the Appalachian Mountain Range, across the Eastern hardwood forest to the Ozark Plateau, and north into the Great Lakes region (USDA, NRCS, 2001). The Flora of Maine lists Black cohosh as not occurring naturally in the wild here. Rather, they escaped from cultivation in some areas in Maine.
The 30 black cohosh plants growing in Avena Botanicals' Medicinal Herb Garden in West Rockport, Maine, look whimsical and magical. Their wild stems emerge from the soil in early May. A deep brown, almost black color, they remind me of ferns as their leaves uncurl. The stem is smooth and furrowed, and they divide into three stems. The leaves are large and compound, with two or three lobes, double serrated and sharply pointed.
Many white flowering spires grow from one mature black cohosh plant. Each stalk can even contain dozens of individual flowers. The flower buds look like tiny, round buttons that open into a flower with several stamens. Once the racemes are in full bloom, flies, gnats and bees cover the plants, pollinating the flowers. Black cohosh flowers have an unusual smell – some call it rather unpleasant or fetid – that attracts pollinators by the hundreds. In the fall, brown seeds cover the racemes with brown seeds that scatter in the wind.
A Candidate for CITES?
Organic cultivation of black cohosh is critical for its continued survival. Currently, farmers sell thousands of pounds of wild-harvested roots to foreign phytopharmaceutical companies yearly. Pharma companies buy them primarily for menopausal formulas. Wild stands diminish every year because of the high commercial demand for the roots. The slow growth of the plant in the wild and the loss of wild woodland habitats due to large-scale logging and urbanization don't help the issue either. Some herbalists believe that black cohosh will be the next medicinal plant to go on the CITES (Convention for International Trade in Endangered Species of Wild Fauna and Flora) list.
Propagation
Black cohosh can be propagated from root cuttings and from seed. You can easily divide mature, seed-bearing plants by cutting the rhizome/root in the fall with a sharp knife or machete. Each divided rhizome must contain a nascent bud and lots of rootlets.
If you are interested in growing black cohosh from seed, I highly recommend purchasing Richo Cech's book, Growing At-Risk Medicinal Herbs. Richo has grown medicinal herbs for many years and helped create a wonderful, organic herb seed company, Horizon Herbs, with his family.
If you want to purchase black cohosh plants, Paula and Mark Fulford of Teltane Farm in Monroe, Maine (525-7761), sell excellent, organically grown plants, and Fedco offers black cohosh plants through its tree catalog (Fedco Trees, PO Box 520, Waterville ME 04903).
Provide Some Shade
You should plant this herb in well composted, deciduous forest type soil. Space each plant 2 feet apart, either in shade or part shade. Then, cover the soil with rotted leaf mulch or bark mulch to improve water retention. My plants that grow in full sun begin to show signs of stress from lack of steady rain over the past several summers and from the sudden high temps that occurred after our long, cool, damp spring. With our climate under such change, black cohosh growing in the North may need more shade than it has in the past.
Medicinal Uses
Black cohosh was an important medicine for many of the Eastern Woodland Indians. They passed their knowledge of this and other plants on to early settlers. The root has long been used for a variety of situations specific to women. Many native women used the root tea during the last two weeks of pregnancy to prepare for labor. The root can even promote regular contractions during labor. A few drops of tincture can help during labor if she is irritated or exhausted, for example. It can also ease after-pains following labor. Note: Avoid use of black cohosh if you are pregnant until the last two weeks of pregnancy.
Menopausal benefits
Currently, the root is used by women experiencing symptoms related to menopause. These include hot flashes, depression, fatigue, water retention and vaginal dryness, for instance. Black cohosh helps some women who  have trouble sleeping. The plant can also help women who with premenstrual moodiness that has a brooding, "black cloud" feeling. Small doses of a fresh root tincture (1 to 5 drops under the tongue, for instance,) taken for the duration of the moodiness, can help. Black cohosh tincture is used frequently in Europe instead of estrogen replacement therapies. This herb, along with other herbal and nutritional supplements, is often used by women who have had their ovaries removed surgically.
Black cohosh is also used to ease painful menses, pain at ovulation, and help stop uterine spasms. It helps relax the smooth muscles of the blood vessels and uterus and the skeletal muscles. It also helps dilate the bronchioles. This means that it helps lessen bronchial spasms and coughs in situations such as bronchitis, pneumonia and pertussis.
Pain alleviation
Herbalist Matthew Wood uses a small dose of the root tincture for whiplash, neck and lower back pain, and  muscle tightness and hardness. The old Eclectic physicians from the 19th century used black cohosh for migraines associated with menses, optic neuralgia, and muscle pain associated with influenza, and deep-seated muscle pain. (Herbal Therapy and Supplements, by Merrily A. Kuhn and David Winston, p. 60)
Black cohosh is a helpful medicinal herb and a great plant to consider growing. It is useful both for its beauty and to ensure its continued survival. For more information about native medicinal plants that are becoming at-risk in the wild, contact United Plant Savers at PO Box 77, Guysville, OH 45735; phone: (740)-662-0041; fax: (740)-662-0247; www.unitedplantsavers.org/; [email protected]. Consider becoming a member of this grassroots, nonprofit organization. They put out a few fabulous newsletters each year and offer educational programs at its beautiful botanical sanctuary in southeastern Ohio. Loren Israelson, strong supporter of United Plant Savers, wrote: "Frances Thompson, the English poet, once wrote that one could not pluck a flower without troubling a star, what then if we lose a species?"
About the author: Deb is the founder of Avena Botanicals and the Avena Institute in West Rockport, Maine. She also wrote A Woman's Book of Herbs. You can visit her Web site at www.avenaherbs.com. This article is for information only; please consult a health care practitioner if you have a serious medical problem.

---
A Note about Black Cohosh
As this article was prepared for press, a study suggested that black cohosh may increase the spread of existing tumors (but not initial mammary tumor development) in genetically engineered mice who were fed the herb for up to 14 months.
A response to this study, written by a supplier of a standardized extract of black cohosh (Remifemin) and with references to scientific studies about the safety and efficacy of black cohosh, was subsequently published.
If you have questions about black cohosh, please consult your health care practitioner. – Editor