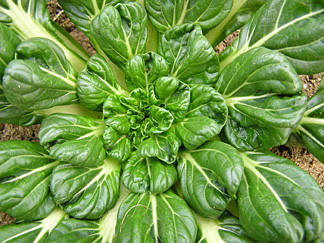 Tat soi, sown 8/11/07, was ready to eat at the Common Ground Country  Fair on Sept. 21. English photo.
by Jean English
No surprise: I came home from the Common Ground Country Fair with a cornucopia of gardening ideas; and the lush results that came from taking a little time, space, seed and compost that were displayed at the Fair encouraged me to spend that little bit of extra time this fall to ensure a more prolific garden in all seasons.
In one display garden created by MOFGA member Jack Kertesz, a "Boxed in Bed" had been established two years previously by spreading various plant materials from the garden. "Weeds, tomato plants, squash vines and other dead vegetable plants were layered with a light sprinkling of compost," said Kertesz. "The soil underneath was not tilled, and the underlying grass was smothered. A more organized process like this is sometimes referred to as a 'lasagna bed.' It's simple and, given time, the breakdown of nutrients can be significant. Bolder gardeners set transplants into this mixture the first year it is established. All materials can be gathered by hand, and few tools are needed. It is a no-till, no-frill method that can produce PROduce."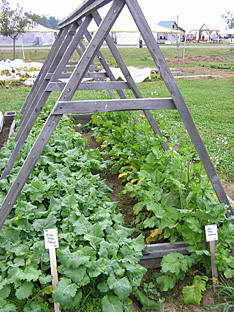 'Winter Queen' collards (planted on Aug. 11, 2007) and 'Rat Tail' radish (planted on Aug. 8) on Sept. 21, in the demonstration garden planted by Jack Kertesz. The wood frame supports a plastic covering in the fall to extend the harvest season. English photo.
Gardeners can start a "Boxed in Bed" like this by taking any good, disease-free organic matter (leaves, grass clippings, crop residue…) and piling it in an area to make a future garden bed. Add a little compost to help inoculate the pile with the organisms that break organic matter down into nutrients that feed the soil and, in turn, feed future crops. Next spring, or the spring after that, set transplants into the bed and watch them grow. A head of cauliflower thrived in Kertesz's garden and won a first-place ribbon in the Common Ground Exhibition Hall.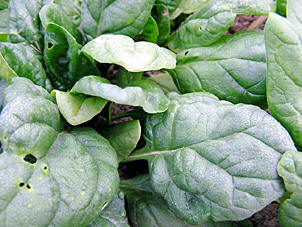 'Olympia' spinach is another green that, sown in mid-August, can grow  well into fall with no frost protection. English photo.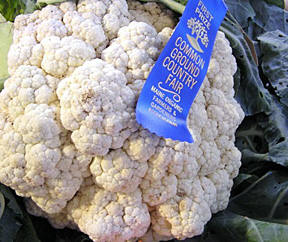 This cauliflower grew from a runty seedling in soil that was never tilled. Instead, gardener Jack Kertesz placed weeds and other garden  waste and a little compost into freeform pile, boxed the area in with timbers, let it sit for a year, and then planted. The plant received very little watering and no extra attention, until dinner was ready … English photo.
Kertesz also had display beds of greens that extending the growing season well into the fall even without early frost protection.  "Raw, steamed or sautéed, they can add valuable nutrients to your post-summer diet," he said.  His plantings included "the vitamin powerhouse kale in all its forms and colors, that 'sweetens up' in cooler weather."  Other greens included 'Fun Jen' Chinese cabbage, hon tsai tai, maruba santoh, 'Green Wave' mustard, mizuna, 'Pink Lettucy' mustard, 'Shuko' hybrid pac choi, tat soi, toraziroh, 'Ice-Bred' arugula, 'Sylvetta arugula,' 'Even Star' tatsoi, 'Erba Stella' minutina, tetragonia, perpetual spinach/leaf beet, 'Olympia' spinach and 'Winter Queen' collards – all sown on Aug. 11, 2007, and producing abundantly by the 21st of September.
Kertesz showed how to double production from one small area: He planted 1/50th of an acre to garlic last October, giving the bed about half an inch of compost and covering it with oat straw at planting time.  In the spring, he pulled back the oat cover, sprinkled a little more compost over the bed and replaced the oat straw mulch. The approximately 900-square-foot bed yielded over 20 pounds of garlic in August, worth a good $200 on the market or providing great flavor and health to meals. Once the garlic was pulled, hardy greens were sown in soil that needed almost no preparation. "Doubling up crops like this in one growing season is a good way to double your rewards," said Kertesz. Given the simplicity of growing greens and garlic, and the small space needed, one wonders how anyone, anywhere could be vitamin deficient.