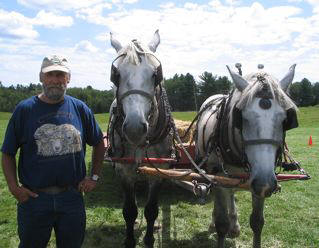 Don Webb and his team
By Carolyn Steinhoff Smith
Copyright 2006
I met Don Webb at a Farmer's Market near Topsham, Maine. Tall and strapping, with a grizzled, full gray beard and a ruddy, weather-seasoned face, he was giving rides on a hay wagon pulled by two solid, beautiful gray Percheron draft horses. My friend Robin, her six-year-old son Ben and I bought tickets for a few dollars from Don's wife, Cathy Webb, who was selling them under a tent. She was also selling golden-brown maple syrup in leaf-shaped bottles, and earthy-smelling, hand-made soaps with bits of plant matter in them that made them act like loofahs. (I discovered this later when I used the lemon grass bar I bought.)
When five or six people had bought tickets, Don decided that was enough for the next hay wagon ride. We bumped at a leisurely pace around the field behind the market, watching white clouds billow in the brilliant blue summer sky, beyond the rumps, tails, manes and ears of the Percherons. Don turned and talked with us as we rode. He told us he had an organic farm, and that he farmed with these horses almost exclusively.
The two horses were called Bill and Barney, he informed us, "and I got another team I like real good that I call Doc and Dan, then there are Charley and Betty." He also has six Belgian draft horses and "a bunch" of riding horses. His Belgians are brown, red or chestnut. He'd purchased the team giving the hay rides in Ohio, but he'd raised the others himself at his Pittston farm.
I Like My Horses to be Patient
"We trained them to be farm horses," he said after the ride—"fahm horses," is what he actually said, in his classic Maine accent. "I don't pull my horses; I don't like them to pull weight. It makes 'em into a different type of horse. Sometimes it makes 'em into aggressive pullers. I don't like that for farm work. Mine are trained differently. I like my horses to be patient. I like to be able to leave 'em alone, to depend on them being there when I get back."
Webb does use a tractor for some jobs. "We use a tractor and a combine to harvest our oats at the end of the summer. And we have to tether the hay with the tractor. We can rake the hay with the tractor and the horses, or just with the horses. I bale with the tractors, too. The tractor pulls the spinners that reach down and flip the hay, turn it over to let the wind get into it. We make 5,000 square bales, and 400 or 500 big round bales. The motor-driven baler takes more time than it would with horses, so we have to shake a leg when the weather's good."
Load Light and Go Often
What's a typical day like at the Webb Family Farm? "'Course every day we start with breakfast, no matter what time of year it is," said Webb. " Usually we have rolled spelt, that's a grain we grow. You roll 'em like you would an oat. We make rolled oats too." I asked how they did that. "We put it through a machine that flattens it; it cracks the berry open so its nutrition is available. Then you cook it like oatmeal."
Beyond breakfast, "it depends what time of year it is. From January to February we cut and pile logs for firewood, five days a week when the weather's good. If we don't get five, we get three or four, so three or four's probably more accurate. We have the logs in our woods. We get enough to do our building and repair work, plus about 50 cords of firewood. We use the horses to do that work.
"Now, when we cut the wood, we can only do it if there's snow. It's called yarding, which means extracting the logs from the woods to the landing. We stack it in a field close to the road. The horses, they just wait there for me while I'm cutting, moving limbs, making roads to drive them on. We take a woody chain saw to the brush. We make side roads every day.
"We bring the horses in and hook 'em to a scoot. It's got two long runners, called shoes, made of 4×4 planks of beech or yellow birch, pinned with wooden pins. We load the wood on there, half or three-fourths of a cord at a time so it's not too heavy. My rack holds about half a cord. There's an old saying, 'Load light and go often.' We kind of follow that. We'd like to sell 50 cords, but generally it's more like 35 or forty."
The Romance of Sugaring
"By the time we get that done, it's time to go sugaring. I get a platform on the scoot, and we put a gathering tank on there. It's a square metal tank, about 3 feet by 6 feet. I have three of 'em. There's a hole in the top about a half a foot square, and a spout on the back to unload. The horses pull the scoot through the woods and pick up the sap. 'Course before I pick the sap up, we load the buckets on the trees. We hang about 250. It takes about a day.
"You put the metal sap spout into the tree; you tap it in lightly. You drill a hole, and usually the sap comes gushing out. Then you put in the spout. On a good day the buckets are all full." I asked Don if this hurt the trees. "We don't see any ill effects on the trees," he reassured me. "On a sunny day, when you hang the bucket, the sap runs, the snow's bright, sap goes doing, doing, doing, into the pail—Cathy and I say that's the romance of sugar."
Mending Fences
"By the time we're done sugaring, we get on to the fences, mending and repairing. We use the wood we took out of the woods. Some we have to make new, some just take replacing maybe one plank. That takes a week to 10 days. We have three farms, and we use horses for all of 'em. We walk 'em back and forth, about 2 miles. They don't mind it a bit. When we're done with the fencing, we start plowing, harrowing and planting. This is the fieldwork. We plant 25 or 30 acres. We plant it all with horses. We have oat, wheat, corn and spelt."
The Fieldwork
"We have a grain drill for the small grains. You plant it as if you were mowing; you go back and forth. You attach the horses, they pull the machine, and it puts the seeds in. Spelt is in the late summer; it's a winter grain. We like to have the majority done by mid-September, by about the 20th. We also plant winter wheat. The oats and corn are in the spring; those we harvest at the end of the summer. We're in the process of harvesting the oats; we've got most of them cut already," Don said in August. "We do use the tractor and pull it behind the combine for harvesting." Hay comes next; they were making their second cutting in August.
Certified Organic
"We grow hay and grain, and we also keep beef cows. We're certified organic. Everything we do has to be organic. It's just a little bit more work. We sell vegetables; we have a big garden of vegetables. As with the corn, we plow with the team. They harrow it, spread the compost. We cultivate all our corn with the team."
I told Don I knew nothing about farming, living in Brooklyn, and I asked him what a cultivator was. "A cultivator is a weeding device," he explained. "It has fingers that upset the weeds. Cultivating is very enjoyable. But you can very easily lose a lot of corn. You have to pay attention. We grow—you name it. We grow potatoes, tomatoes, cukes, we have 4 acres of corn, we have broccoli, celery, all the crops. We sell them at the farmers' market. Occasionally, on a nice sunny summer day, we'll hitch up the team to the wagon—it's an old buckboard—and go down and get some ice cream."
I Guess I Missed 'Em
Webb's father farmed with horses, too. "My dad made a living cutting and yarding wood in our area. I remember one time, people lost a lot of wood in a flood on the Kennebec River. Dad hauled a lot of it back, all the way from Popham Beach where it washed up. And we always milked cows. Our home farm was owned and operated by myself, my dad and all our brothers. Now one brother is still involved with the farm, and one sister moved off.
"My home farm is where my dad lives now; it's about 200 acres. I bought a hundred-acre farm up the road. We rented it first; then when it came up for sale, we had to get off or buy it, so we purchased it. I'm glad we did. I went for about five years where I didn't have any horses. In high school I showed Percherons. I guess I missed 'em."
The Greatest Reward a Farmer Has
Webb sees a move toward farming with horses. "I do know there are definitely people interested in small farms and horse farming. I have a friend who, in the past two or three years, has gone to horses. And there are always a few young people who want to learn more about it. They come and they want to experience a different way of doing things. Their grandparents had to do it that way. I do think there are more people interested in it. Lot of times now, we sell a team. That's a good sign.
"It's a very personal way to farm. It's quiet; you're not listening to a motor run. You can have a relationship with the horses. It's nice at the end of a day, if you're plowing and mowing a field and you stop and look back across it, it's a good feeling to be in touch with the land. That's the greatest reward a farmer has."
---
You can contact Don or Cathy Web at The Webb Family Farms, RFD 2, Box 80 A, Gardiner, Maine, 04345 or at 207-582-7160. The Webbs sell certified organic beef, chicken eggs, cereals and granola, maple syrup and pancake mixes at Maine fairs and festivals; at Harvest Time Natural Food Store, Uncas Farm, and Crystal Springs Farmers' Market in Brunswick. They also have a commercial composting operation.
This article was originally published in Small Farm Today. It is reprinted here with permission of the author.
You can learn more about working with draft horses at the Common Ground Country Fair in September and at the Low Impact Forestry Workshop, held each November at MOFGA's Common Ground Education Center in Unity, Maine.