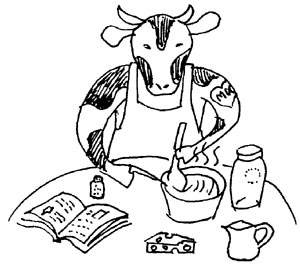 Illustration by Toki Oshima.
By Roberta Bailey
In the last few years, I have noticed a significant increase in the number of small dairy operations, many of them organic, in Maine. Transitioning to organic has helped small dairy farms survive. Selling milk wholesale is one option, but I have noted an increasing number of farms marketing their milk and value-added products such as cheese and yogurt to natural food and gourmet shops, and even to Hannaford supermarkets.
Last fall at the Common Ground Country Fair Farmers' Market, I spoke with Cecil Linscott of White's Orchard in Frankfort, who was selling his farm's bottled milk and cider. He said that he gets regular calls from farmers who want to find out where to get glass bottles and how to market their milk locally.
With increased consumer concern about recombinant Bovine Growth Hormone (rBGH), antibiotic use, and questionable feed practices, the time is ripe for the growth of local dairies. I am always excited to see an alternative to the large producers. I go out of my way to check the refrigerated section of health food stores and to stop at local farm stands. I end up trying new products, having little culinary adventures.
In my limited travels, I have found fresh cow's and goat's milk, crème fraiche, yogurt, dry curd cheese, butter, mild cheddar cheese, fresh mozzarella, herbed cheese spreads, chevre and the best vanilla custard ice cream I have had in my life (at Town House Farm in Whitefield, Maine). I had given up eating ice cream until I tried theirs. Now I have to be very disciplined.
I've also started buying local milk and making yogurt again. It's very easy to make, and my husband says it's the best yogurt he's ever had.
Do you know how far your food has traveled to get to your table? Set a goal for yourself of spending a certain percentage of your weekly food budget on local foods. Seek farmers' markets, local dairies and specialty markets. You may have to travel a little more, but your food will have traveled much less, and you can talk to the people who produce it and see where your money is going.
Homemade Yogurt
1 quart milk (whole, low-fat or goat)
1 Tbsp. plain yogurt with active cultures
Heat the milk to 180 degrees F., just to the point where bubbles form. Stir to prevent burning. Heating results in a thicker yogurt, but is not critical. Cool the milk to 110 degrees F. Stir in the yogurt, mixing thoroughly, and pour the mixture into a jar. Avoid the temptation to use more starter; that will result in sour, watery yogurt. The cultures need room to live. One tablespoon of yogurt culture creates a smooth, creamy yogurt.
Place the covered jar in a 110-degree F. place. Leave it without jostling for 8 to 12 hours. It will be thick and tangy when done. You can use this yogurt for future batches.
Tuscan Potato Salad
3 pounds peeled potatoes, red, white or purple
2/3 c. freshly grated Parmesan cheese
1 c. ricotta (9 ounces)
3 to 4 garlic cloves, pressed
1/2 red onion, finely diced, or 1/2 c. minced chives
1/2 c. olive oil
6 Tbsp. cider or white balsamic vinegar
1/2 c. chopped fresh parsley
Steam the potatoes until just tender. While they are still hot, mix in all the ingredients except the parsley. Serve warm or chill. Flavor improves with chilling. Garnish with parsley just before serving.
Chilled Tomato Soup with Basil Cream
1/2 c. lightly packed fresh basil leaves, coarsely chopped
3/4 c. heavy cream
2 c. seeded, peeled, coarsely chopped ripe tomatoes
2 c. vegetable or chicken stock
2 c. milk
1 tsp. honey
salt and pepper to taste
fresh, whole basil leaves for garnish
A few hours ahead of time, place the basil in a bowl. Scald the cream and pour it over the basil. Let the cream and basil steep for 1 hour, then chill.
In a food processor, purée the tomatoes, milk, stock and honey until smooth. Season with salt and pepper. Transfer to a bowl and chill deeply. At serving time, whip the basil cream. Serve the soup in chilled bowls with a dollop of cream and top with a fresh basil leaf.
Zucchini-Feta Casserole
3/4 c. bulghur
3/4 c. boiling water
21/2 Tbsp. vegetable oil
2 c. sliced onions
4 cloves garlic, minced
6 c. thinly sliced zucchini rounds
1/2 tsp. fresh or dried oregano
2 to 3 tsp. fresh basil
1/8 tsp. black pepper
2 eggs
1 c. grated feta cheese (5 ounces)
1 c. cottage cheese
***
2/3 c. fresh, chopped parsley
2 Tbsp. tomato paste
1 Tbsp. tamari soy sauce
***
1 c. (3oz.) grated cheddar cheese
2 medium tomatoes, thinly sliced
11/2 Tbsp. sesame seeds
Place the bulghur in a bowl and pour the boiling water over it. Cover and set aside until soft, when all the water will have been absorbed.
Sauté the onions and garlic in the oil until the onions are translucent. Add the zucchini, herbs and black pepper and continue to sauté on low heat until the zucchini is just tender.
In a bowl, beat the eggs lightly. Mix in the feta and cottage cheese.
Add the chopped parsley, tomato paste and soy sauce to the bulghur and mix well.
In an oiled 9- x 9-inch casserole dish, layer the bulghur mix, then zucchini, then cheese mixture. Top the casserole with the tomato slices, then cheddar cheese, and sprinkle with sesame seeds.
Bake covered for 45 minutes at 350 F. For a crusty top, uncover for the final 15 minutes of baking. Let the casserole sit for 5 to 10 minutes before serving.
Looking for more seasonal recipes? Sign up for MOFGA's Local and Organic Kitchen Newsletter.
Learn how to make your own cheese with our instructional video series The Basics of Cheesemaking.