Wins on funding for organic certification, research, new farmers and import enforcement shadowed by changes to the National Organic Standards Board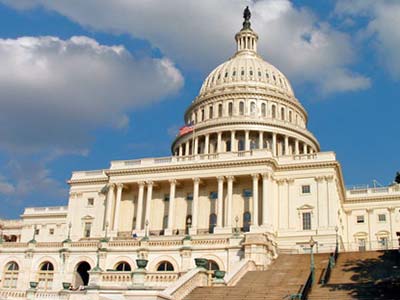 U.S. Capitol, Washington, D.C.
December 12, 2018 (Unity, ME) – The Maine Organic Farmers and Gardeners Association (MOFGA) generally is pleased with the passage of the Agriculture Improvement Act of 2018 (the Farm Bill), but is disheartened by significant threats to the integrity of the National Organic Standards Board.
The Farm Bill is a gigantic piece of legislation that covers diverse agricultural programs from commodities to conservation to research to nutrition. As the federal government's primary agriculture and food policy legislation (representing several hundred billion dollars over five years), the Farm Bill has great potential to cultivate a more local, more organic, more secure agriculture across the country. The 2018 bill has big wins for organic farmers and consumers, including provisions that will help safeguard organic integrity and generate jobs, economic growth, and environmental benefits in communities across the United States.
MOFGA's Farm Bill priorities have the following results:
Organic Certification Cost-Share Program – The bill establishes mandatory funding and authority for the program, which provides partial reimbursement for rising organic certification costs and is especially important for small and mid-size operations. MOFGA certified organic producers benefit greatly from this program, with more than 90% of producers participating annually.
Beginning Farmer and Rancher Development Program and the Socially Disadvantaged and Veteran Farmers and Ranchers Program – The bill combines the programs, provides permanent, baseline funding ($50 million annually), and makes significant policy improvements. Since 2011, this program has secured almost $2 million in federal funding for MOFGA's beginning farmer programs, which are shifting the demographics of Maine's farm population.
Organic Agriculture Research and Extension Initiative (OREI) – The bill includes an historic increase in funding to permanent, baseline status by 2023, which will help ensure the continuation of this program beyond the life of the current Farm Bill. Cutting-edge research conducted through the OREI program helps farmers become more productive, efficient, and profitable and leads to the development of new agricultural practices that can be used by conventional and organic farmers alike. Maine's university system has secured funds through this program.
Integrity of Organic Imports – The bill expands resources and authorities for organic import enforcement, which will bolster the USDA and organic community's efforts to deter fraud in the organic sector.
Organic Market Research – The bill provides $5 million in funding for organic data collection efforts. This data is vital to policymakers, researchers, and industry participants alike to maintain stable markets, create risk management tools, track production trends, and curb fraud in the organic sector.
Local Agriculture Marketing Program – The bill combines and strengthens the Farmers' Market and Local Food Promotion Program, and the Value-Added Producer Grant Program, and provides permanent, baseline funding.
Local Control of Pesticide Use – The bill omits language from a prior draft, which would have prohibited local governments from restricting pesticide use. This defends decades of thoughtful public policy development in Maine, where at least 29 municipalities have created ordinances to promote organic landcare practices and protect human health and the environment from unnecessary application of synthetic pesticides.
Federal Environmental Protections – The bill omits language from a prior draft, which would have rolled back pesticide regulations in the Clean Water Act and the Endangered Species Act.
Conservation Stewardship Program – The bill rejects language in a prior draft to eliminate the program. It preserves current funding and makes important policy improvements to encourage cover cropping, resource-conserving crop rotation, and advanced grazing systems.
MOFGA works closely with organizations in Maine and across the country to advance the national policy interests of organic farmers, processors and consumers. MOFGA's partnerships with the Washington, DC-based organizations the National Organic Coalition (NOC) and the National Sustainable Agriculture Coalition (NSAC) help ensure that the specific needs of Maine's organic sector are addressed in the federal policy. MOFGA is excited to continue its collaboration with NOC, NSAC and USDA to implement these new funds and policies to advance organic agriculture.

Despite significant funding to support the organic farming sector, the Farm Bill contains deeply troubling provisions that impose statutory changes on the National Organic Standards Board (NOSB), the USDA advisory board responsible for keeping toxic substances out of organic production and processing. MOFGA is deeply disheartened by two final bill provisions that erode the integrity of the National Organic Standards Board.
One of the provisions allows for employees of farm companies to sit in farmer seats on the Board. This provision could dilute the voice of the independent organic farmers and favor the interests of large organic production companies. MOFGA will continue to advocate for the nomination of independent organic farmers to NOSB farmer seats and will actively engage in the Board's transparent and public process to ensure that family farms are represented in NOSB decisions.
A second provision contains unnecessary and confusing language about NOSB voting procedures that govern decisions about which synthetic materials are allowed in organic production and processing. MOFGA opposes this language or any efforts to weaken the voting procedures of the Board or make it easier to retain harmful materials in organic production and processing.
"The boost in funding for organic research and the provisions enhancing organic import enforcement are cause for celebration in the organic community," said Sarah Alexander, MOFGA's executive director. "MOFGA is deeply disturbed, however, by two provisions that undercut the work of the National Organic Standards Board. "We will continue to fight to reverse policies that undermine the transparency, high integrity, and full participation in the organic standards setting process."
A bipartisan spirit emerged toward the end of a year-long, polarized debate on the Farm Bill. In addition to providing critical funding for organic and sustainable agriculture initiatives, the final bill ensures food access and dignity for families in need by protecting the Supplemental Nutrition Assistance Program. Leadership and a spirit of compromise by Senators Roberts (R-KS) and Stabenow (D-MI), and Representatives Conaway (R-TX) and Peterson (D-MN) were essential to moving this bill across the finish line. MOFGA is grateful for the many champions of organic agriculture in Congress, and especially appreciates the leadership efforts by Maine's Senators Susan Collins and Angus King, and Representative Chellie Pingree, each of whom sponsored key marker bills to support the country's dynamic organic agriculture sector. Senator Collins, Senator King and Representative Pingree also advocated strongly against threats to existing federal environmental protections, pesticide regulations, and preemption of local and state laws.
"This farm bill represents a significant step forward for organic agriculture in multiple arenas and is a good first step," said Alexander. "The bill also includes increased support to assist beginning, socially disadvantaged, and veteran farmers, provisions that improve land access for future generations, and expansion of local and regional markets critical to organic producers. Much more can be done, however, to advance policies that benefit family farms, communities, health, the environment, and the changing climate."