We are a 40 acre farm on the shores of the Belgrade Lakes in central Maine, 1 hour north of Portland. using horses and oxen we are a certified organic vegetable and cut flower farm. Started 25 years ago. with a on site farm store and commercial kitchen for our value added products. We have a flock of sheep for meat and wool, chickens, ducks, turkeys and chickens for eggs and meat. we host farm to table dinners, and simple events at our farm. Mary is a floral designer for weddings and events held at the farm and beyond. This has been a family farm where mary has raised her three kids as part of the farm.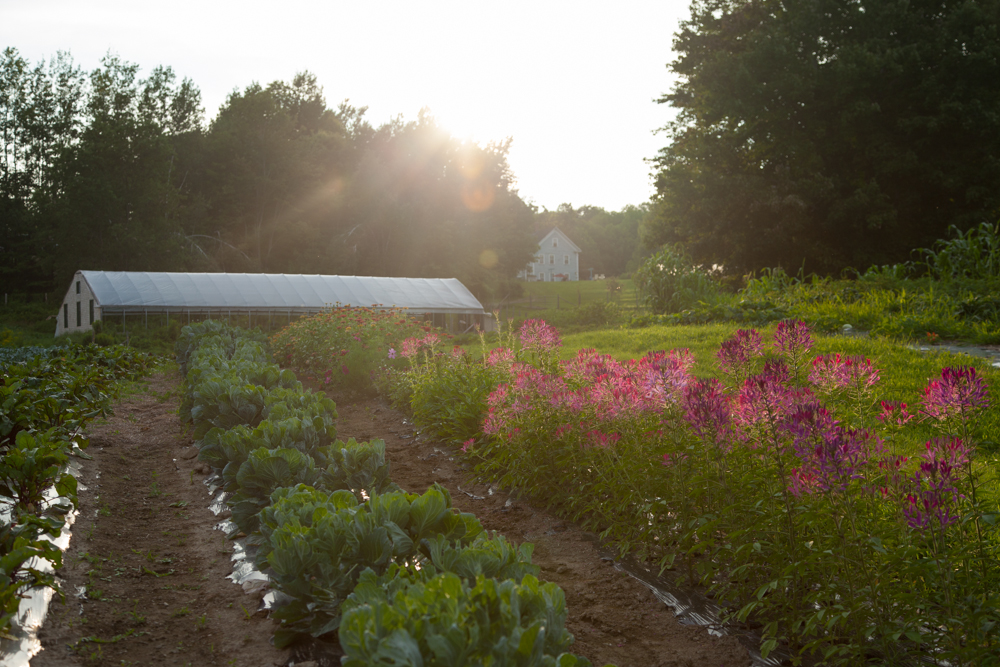 538 Augusta Rd., Belgrade, ME
Part time and full time will be considered, 2-3 day to a 5 day position May-October
We are a small diversified certified organic family farm located in Belgrade Lakes, Maine (about 1 hour north of Portland)
The farm consists of 40 acres: 15 acres in mixed woods this is where our maple sugaring operation is: 10 acres in pasture and the remaining in gardens. our farm was established in 1870 we have put our barn in the National registry of historic places, and there is a conservation easement on the entire farm. (Protecting it so it will remain a farm)
We have almost 5 acres in perennial, mixed berries, rhubarb and raspberries, fruit trees and high bush blueberries.
While growing vegetables, flowers, along with other annual/perennial crops. We grow for our different CSA options, our on farm site farm store and our value added commercial kitchen.
We are looking for a sharp, passionate, efficient, hardworking and eager to learn farm assistant. The farm assistant will be responsible for helping out on all aspects of the farm.
Their responsibilities will include but not limited to assisting on harvesting, cultivation, weeding, greenhouse growing, producing value added products, monitoring for pest and diseases and preparing flower bouquets. They will also possibly be responsible for setting up the farmstand and manning the shop on occasion.
Skills and qualifications:
MUST HAVE PRIOR FARM EXPERIENCE
We are looking for a strong, motivated and eager individual who enjoys and can tolerate working outside in all weather conditions and takes immense pride in their work.
Can work efficiently independently and as part of a team
Organized and hardworking
Has experience interatctinw with the public, either in an customer service or educational setting
Ability to follow written and oral instructions and willingness to seek guidance as needed
Clear communication skills
Mechanical inclinations as related to small machinery, irrigation and carpentry
Has an eye for detail, especially in regards to setting up displays and arranging flowers
Basic computer and recordkeeping skills
Flexibility and a sense of humor
Ability to lift 50+ pounds
Valid driver's license.
Position will start in February March/ April as 2-3 day position to a 5 day position may- October/ pay will be based upon past experience.
Mary Perry
Winterberry Farm
538 Augusta rd.
Belgrade, ME 04917
207-649-3331
[email protected]
www.winterberryfarmstand.com
Winterberry farm is a beautiful farm, that we are so proud of and are passionate about sharing our farm with others.
Application Details and Deadline
ASAP, please contact Mary by email if you are interested.