Marr Pond Farm is a 7 acre MOFGA certified organic farm in rural Sangerville, Maine, started by farmers Courtney and Ryan in 2016. We grow a rainbow of vegetables, cut flowers, and shiitake mushrooms with a focus on soil health and resource conservation. Our products are marketed through CSA shares, farmers markets, restaurants, and natural food stores across central Maine.
We love where we live and farm. Our area has abundant natural beauty, and the farm is a quick drive from Peaks-Kenney state park, Sebec Lake, Moosehead Lake, the Appalachian Trail, and more. We're also part of a close-knit community of new and established area farmers, and believe a vibrant multi-generational community is the foundation of any sustainable farm.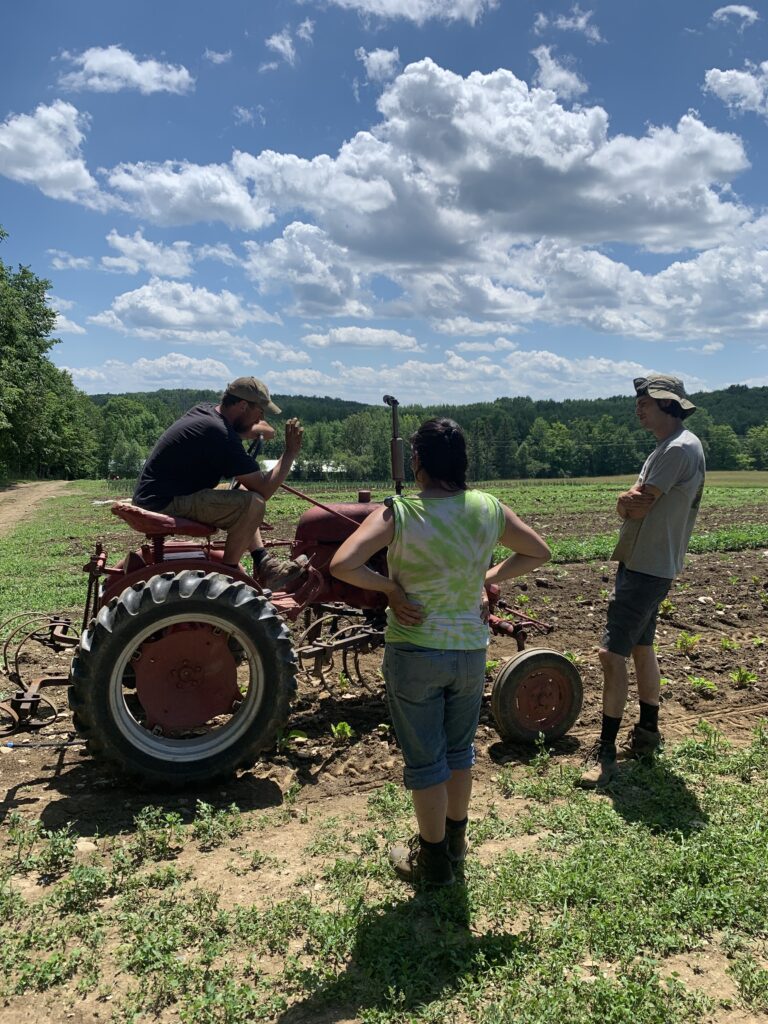 471 Flanders Hill Rd.
Sangerville, ME
We will begin bringing crew members on in April, and end the season the week before Thanksgiving. Exact start and end dates will be agreed upon when hired.
Preference is given to applicants who can work the whole season, but we will consider applicants for crew members that can work a minimum of 2 months.
Marr Pond Farm is hiring for part-time and full-time crew members, and an assistant manger. We look for team members who have an enthusiasm and genuine interest in learning about organic farming, a strong work ethic and desire to take pride in their work, and the adaptability to take on a wide array of responsibilities over the course of the season. We work both in groups and independently (after training) on all day-to-day operations of the farm. The these positions include, but are not limited to: • Seed starting, plant propagation, and greenhouse watering • Harvesting, washing, and packing vegetables and mushrooms • Utilizing farm trucks to accomplish tasks • Maintaining safe food handling practices as outlined by the farm • Cleaning crates and harvest buckets • Mushroom log inoculation and mushroom yard maintenance • Transplanting and fertilizing • Cultivation and hand weeding • Field maintenance (trellising, laying and removing row cover, etc.) • Record keeping • Basic farm maintenance • Assist in scouting for pest and disease issues • Additional oversight and management responsibilities for our assistant manager Some interested candidates may also work harvesting and processing flowers, or attending farmers markets. All employees are expected to attend at least one farmers market a season. Experience: • Farming experience is preferred. Applicants without farming experience should be prepared to explain how their work or life history has prepared them for the rigors of farm work. This job is physically and mentally HARD, but also very rewarding. • Experience with physical or outdoor work, or work in fast paced environments is required. • A basic familiarity with plants or gardening experience is helpful. • Basic math skills are required. • A valid driver's license is strongly preferred, and the ability to drive a standard vehicle is preferred. • Experience with basic tools, basic carpentry, and a handy problem solving aptitude is helpful. • Please see our website for more information about our experience preferences and requirements for the assistant manager position. For more information on our available positions check out our employment page:
Employment
We provide educational opportunities to all interested employees, and do (mostly) weekly field walks to ensure everyone has an understanding on what's happening around the farm. This is also a great time to ask questions and learn more about facets of the farm that might be less visible. We are open with our employees about all aspects of our farm, from finances to crop planning to harvest stages and more. We also maintain a wide collection of farming, gardening, permaculture, climate activism, and social justice books we're happy to lend. We take great joy in passing on our knowledge (we got a lot of it from other farmers!)
We are especially interested in applicants that are excited to become a long-term employee, as our farm continues to grow. Long-term employees are eligible for competitive raises based on performance, responsibilities, and commitment. We are dedicated to sharing our knowledge and contributing to the education and growth of long-term employees, and will develop learning objectives over the winter months on a 1-on-1 basis with interested crew members.
Application Details and Deadline
Applications are accepted and reviewed on a rolling basis, if this post is still up we are still hiring! We would love to have our team set by the end of March.
For more information on our available positions check out our employment page:
Employment