Jordan's Farm is a conventional grower located in Cape Elizabeth, Maine. We till approximately 60 acres of mixed vegetables each season. Our primary market is retail. We also sell wholesale and work closely with several organizations to end hunger in Maine. We strive to eliminate food loss on our farm and continually seek ways to find markets for all products.
We are starting to expand our covered production and will be moving more in this direction over the coming years. We see our business as a growth business and seek people that want to grow with us. If you want to become an integral part of our farm team, work year-round, have medical, dental, and vision benefits; as well as earn paid time off then we are the place for you!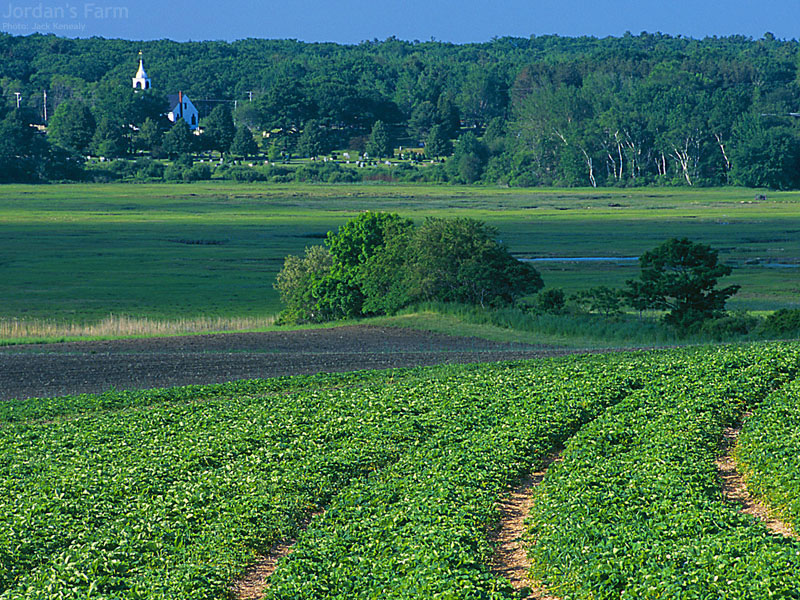 21 Wells Road,
Cape Elizabeth, Maine
$16.00 – $18.00 depending on experience (somewhat negotiable)
APSIRING FARMER/EQUIPMENT OPERATOR
Jordan's Farm is seeking an individual that would like to make farming their vocation. Someone to become part of our farm team and help us continue to evolve our 5th generation farm.
Position Overview
The Aspiring Farmer/Equipment Operator works directly with the lead farmer and is responsible for a wide variety of tasks such as field prep, pest scouting, cultivating, running irrigation, as well as various mechanical, construction, welding, woodworking, and property maintenance projects.
• This employee should be organized, easy-going, and must be comfortable working alone while self-directing and prioritizing their work.
• They should be able to identify problems in the fields and on the property such as: concerning sounds or dripping on tractors and equipment, pest or deer presence in the fields, high weed pressure, or unusual crop growing patterns.
• This employee assists with daily sweet corn harvests during corn season and manages our storage potatoes and winter squash.
• On occasion, this employee joins the field crew to assist in large plantings and harvests..
• Typical hours for this position are Monday through Friday, 7am to 5pm, but hours will vary during the growing season, therefore this employee should be flexible to account for seasonal demands.
Requirements:
• Prior farming experience is desired.
• Experience operating tractors and other equipment.
• Experience using hand and power tools.
• Strong desire to learn equipment maintenance and repair
• Ability to lift 60-80 lbs
• Ability to operate a manual transmission or willingness to learn.
• Ability to assess mechanical issues and repair as needed.
• Experience in construction, and/or the mechanic's industry is a plus, but not required.
• Valid driver's license.
• Team-oriented – we all work together and support each other.
Daily responsibilities:
• Field Prep tillage and marking rows to be planted,
• Cultivating as needed and understanding the timing and frequency based on products,
• Running irrigation; priming pumps and moving irrigation pipes from field to field,
• Planting and harvesting, understanding the care and quality standards for various crops, and planting techniques to ensure seeds/seedlings are planted appropriately for good germination and easy cultivation,
• Operate and maintain the mechanical integrity of farm equipment, trucks, tractors, and other large equipment,
• Seeding in the plug trays by hand and/or with a vacuum seeder,
• Understand and adhere to all GAP/FSMA guidelines and Standard Operating Procedures outlined in our Food Safety Plan,
• Property maintenance such as mowing, weed whacking, pruning, minor excavation, projects, and framing and building projects as needed,
• Post growing season assist with repair projects and snow plowing during the winter months.
Just a few questions to ponder:
• Do you love growing food?
• Do love tractors?
• Are you interested in being part of an evolving multi-generational farm operation?
• Do you like tinkering with machines?
• Do you love feeding people?
As stated above we seeking an individual that would like to make farming their vocation. Someone to become part of our farm team and help us continue to evolve our 5th generation farm.
Jordan's Farm is a family owned and operated farm. There are five family members that are accountable for different aspects of the business. We work as a team and seek people that love the teamwork of farming and that thrive off the intensity of the growing season. We are passionate about growing food and are committed to doing our part to end hunger in Maine.
We have worked to diversify our business and leverage our infrastructure (land, buildings and equipment) by selling soil products and compost, plowing snow in the winter and working to create a 12 month operation.
Application Details and Deadline
Send Resume and cover letter to [email protected]
Call 207-671-5341 if you have questions
Would like to fill as soon as possible