We are a 60 acre, MOFGA Certified Organic vegetable farm that grows about 20 acres of vegetables for our CSA and wholesale customers. We are in our seventh year of production and are growing each year to meet the demand for local, organic produce.
As a mixed vegetable operation, all staff on the farm get to be part of seasonal produce production in the short-season climate that is Mid-Coast Maine. The work is variable, challenging, and rewarding. We work in all weather; we work as a team to meet the tight deadlines of harvest and delivery. We pride ourselves on creating a great work environment and providing upward growth for committed staff.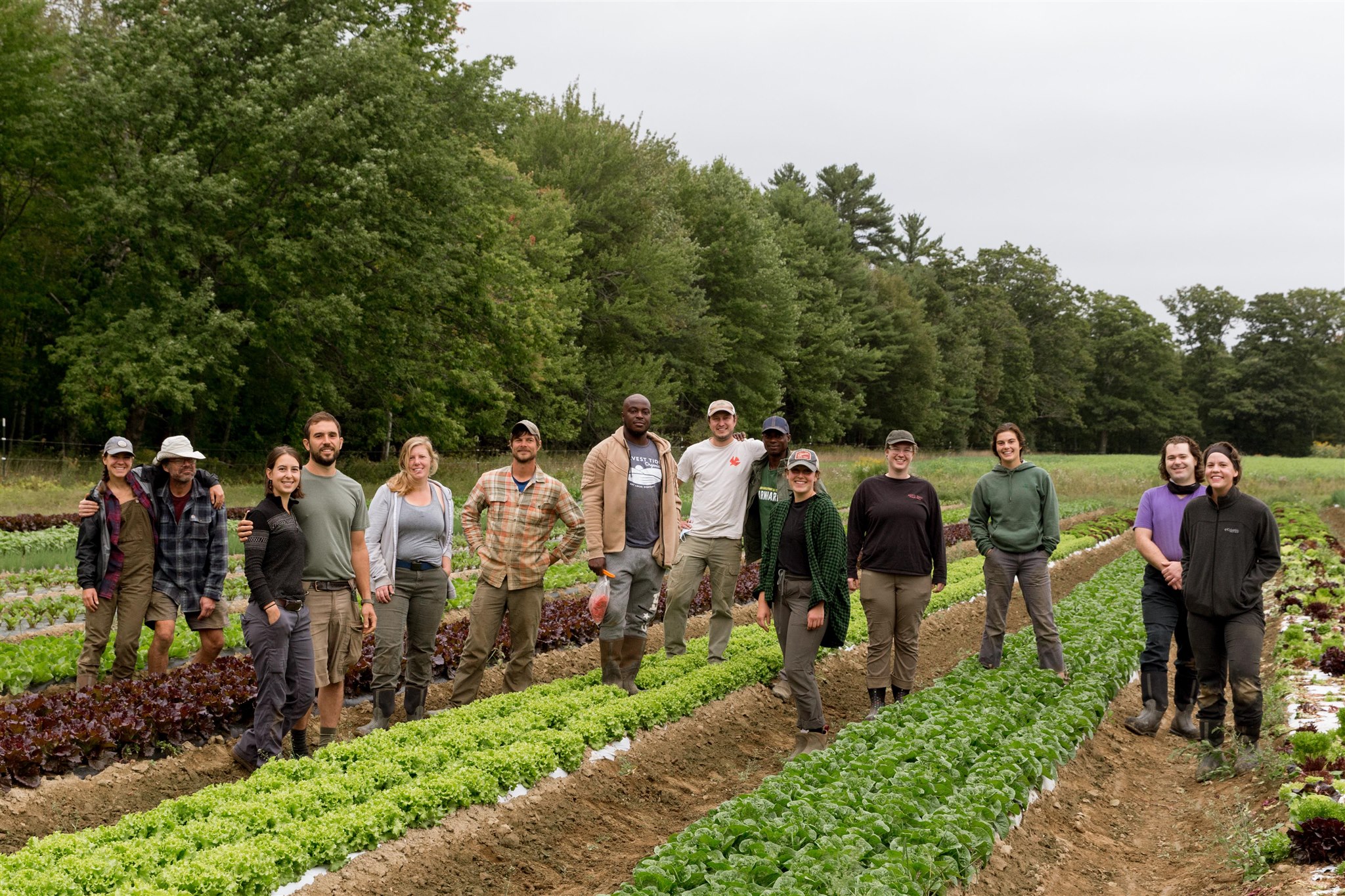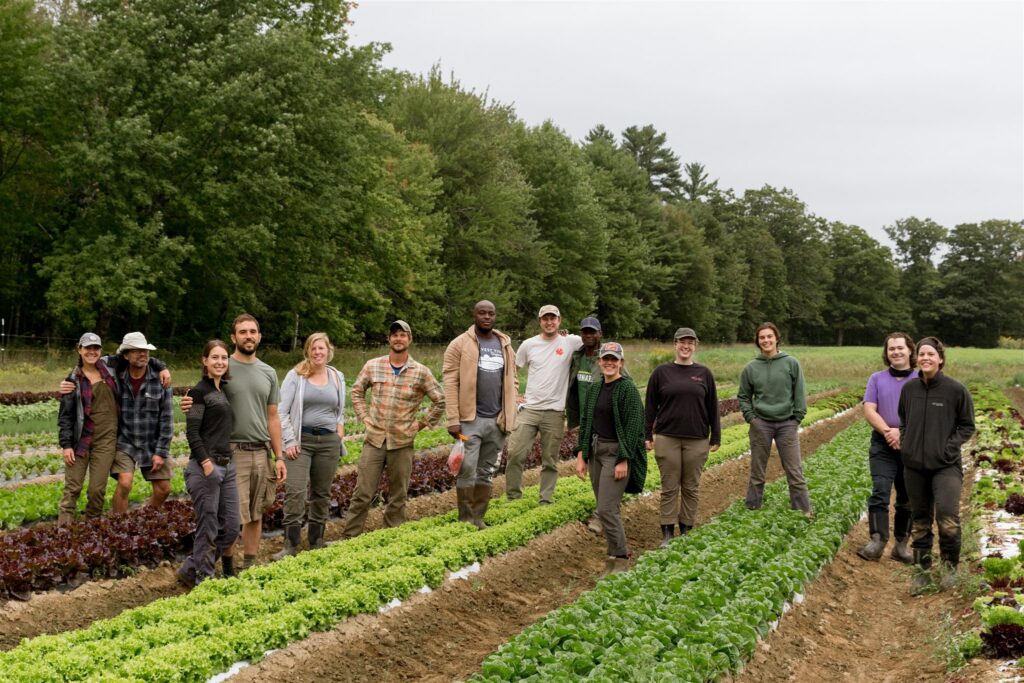 304 Pork Point Road, Bowdoinham, ME
Hours:
Spring, Summer and Fall: 40-45 hours per week, 6:00 or 7:00 AM until 3:30 or 4:00 PM. The majority of the work will be done Monday-Friday, however this position requires commitment on 1-2 Saturdays per month to assist with greenhouse management. Days off will be managed accordingly so employee only works 5 days per week.
Winter: 25-30 hours per week, 8AM until 3:30PM, 3-4 days per week.
Lunch is an unpaid ½ hour, and employees are given a paid 15 minute break mid-morning.
16.00 to start (more with relevant experience)
Description:
This position is for a candidate with specific greenhouse experience who will balance time between greenhouse work and field work. They will work as direct support to the greenhouse manager approximately 50% of the time, while assisting in essential field production and harvest for the remainder of their time. This position has the potential to become a full-time greenhouse management position for the right candidate. Seasonal structure is varied and depends on the needs of the farm during critical periods, and the flexibility to float between different positions as need arises is essential. A general breakdown of how the year will be spent is outlined below:
January – February will consist of mostly harvest and washpack related tasks, with seeding work beginning in late February.
March – August Most days will be spent in the greenhouse assisting in seeding, watering, potting up etc. with occasional days or partial days allocated to the field and washpack as needed.
September-December As greenhouse production winds down in the Fall, most of the work day will be spent with the farm crew, under direct supervision of field and wash pack manager, harvesting, planting, washing, packing and working on other varied tasks.
Our ideal candidate is someone who is able to be self-motivated, responsible, with a high attention to detail and strong organizational skills who is eager to learn. Seeding and greenhouse care can be monotonous (but rewarding!) work with long hours on your feet doing repetitive tasks, so the ability to work quickly, efficiently, while also being detail-oriented is key.
The responsibilities for this position include but are not limited to:
Daily check-ins with greenhouse manager to asses weekly needs and priorities
Seed seedlings on schedule, diligently follow protocol for seeding practices
Maintain tunnel climate and sanitation, make daily/seasonal adjustments to assure air flow, temperature, pest control
Maintain record keeping for propagation greenhouse
Scout for disease/pests and work with Sarah to establish and maintain spray/management practices
Maintain and adhere to schedules regarding planting and making appropriate preparations (ie hardening off seedlings, confirming planting schedule with field managers, spray schedules)
Lead other employees through tasks that require extra hands (eg large GH seedings)
Maintain a clean/organized workspace in greenhouse
Help with other farm tasks as the work demands, such as transplanting, harvesting and weeding with the farm crew the remainder of their time
Job Requirements:
1-2 years required experience on farms and in greenhouses specifically (preferred).
Employees must be on time, responsible and reliable.
Consistent attention to detail and a high standard of work.
Must be capable of heavy physical work in all weather conditions, cold/heat/rain etc. Greenhouse work requires the ability to stand for hours on end, move trays repeatedly, lift and move up to 50 pounds, and work in warm or hot conditions.
Knowledge of germination, watering, and basic plant growth, vegetable types
Ability to work quickly and efficiently while working alone.
Ability to stand for 4 hours at time
Sense of humor, ability to roll-with-it, and a good attitude!
Employees are expected to be team players, comfortable taking direction and following direction from both managers and co-workers, and comfortable taking constructive criticism that improves the job being done. Employees must be comfortable working at a quick pace, even while working alone. Employees are expected to be respectful and kind to one another.
Clear and consistent communication of expectations.
Pre-set hours and clear work schedule with clear boundaries.
The same professionalism and high standards we expect of staff.
A friendly and human workplace where people work hard.
Application Details and Deadline
Please submit a resume (or simple list of relevant experience), 2 professional references (don't have to be farms or horticulture, but that is preferred), and a paragraph or two about why you want to work on a farm to [email protected]
We are hoping to fill this position by early/mid February, job will be posted until filled.