Bumbleroot Organic Farm is a certified organic vegetable and flower farm located 10 miles from Portland, Maine. We grow vegetables and cut flowers for our CSA, farm stand, and wholesale accounts. Our mission is to connect people from our community with the land and food that sustains us, and to strengthen our local food system.
We are working to incorporate no-till practices and perennial crops into the farm. We use tractors to prep fields for planting, but planting, weeding, harvesting, and processing are all done by hand by our crew of 10+. We are committed to renewable energy, community building, climate resilience, prioritizing quality of life, and creating a supportive and inclusive work environment.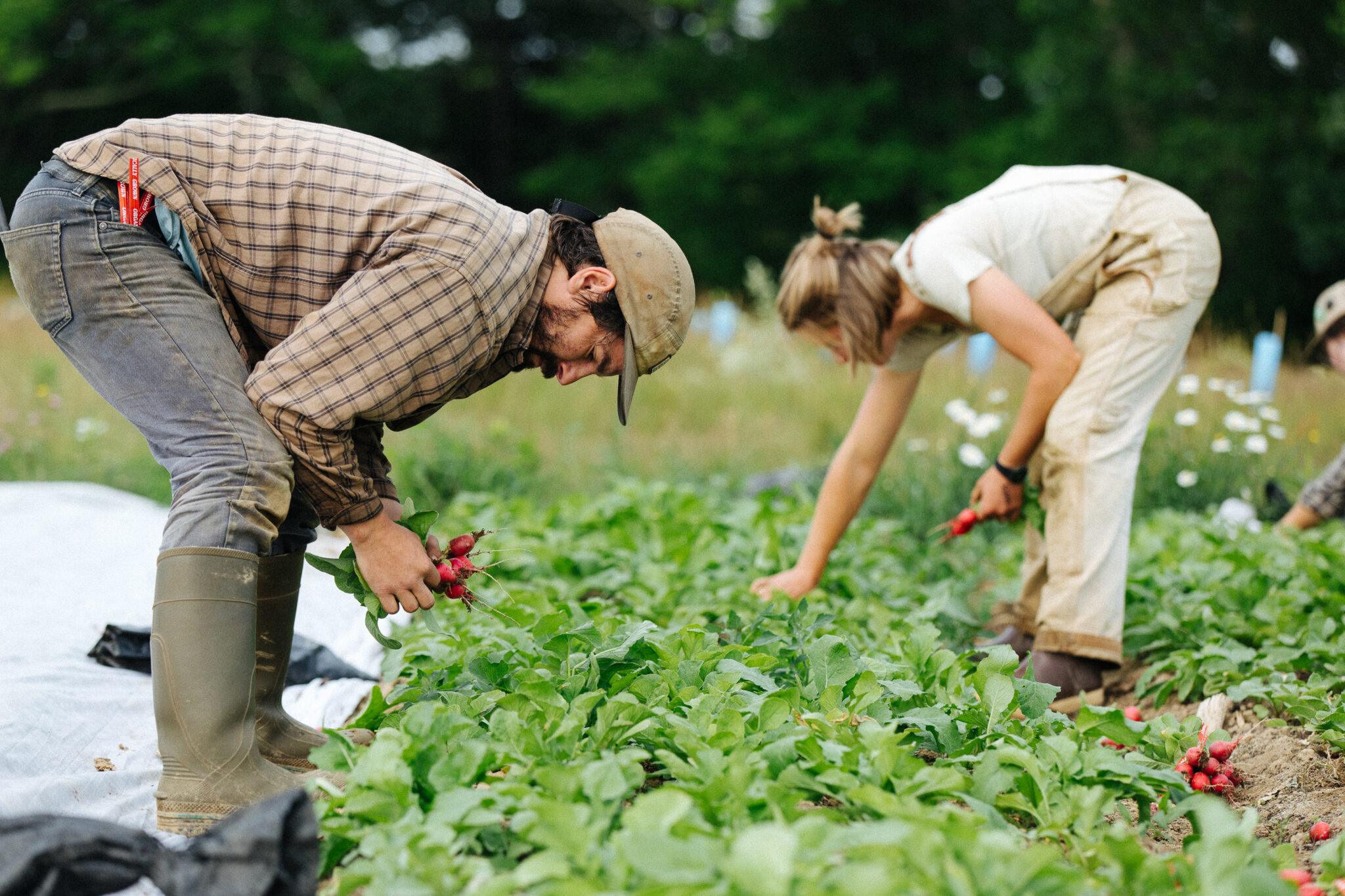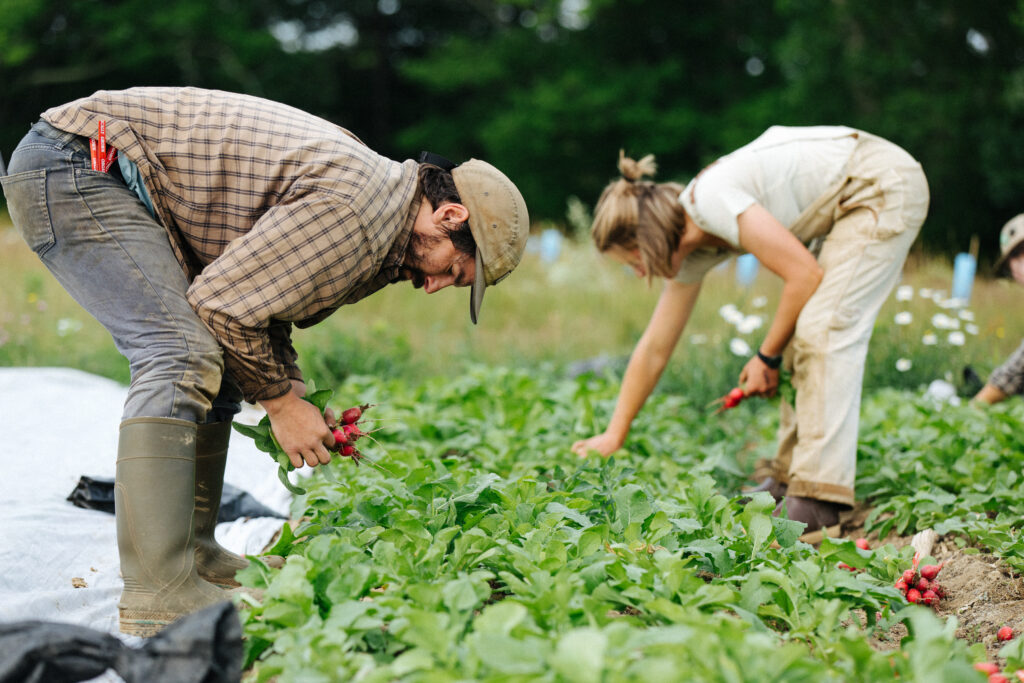 196 Highland Cliff Rd. Windham, ME 04062
40+ hours a week
Seasonal (April 2023 – October 2023)
Monday – Friday (Occasional Saturday)
The job will be 8-9 hours a day, 5 days a week with a one hour unpaid lunch break. Tuesdays and Fridays are harvest days and we start early (6am – 4pm). Other weekdays the schedule is 7:30am – 4:30pm. You will be expected to work one Saturday shift per month (7am-2pm).
This position will be focused on vegetable production, harvest, and sales. You will participate in all daily farm activities including but not limited to: seeding, transplanting, weeding, harvesting, setting up irrigation, washing and packing vegetables, tractor work, CSA and market preparation, deliveries, cleanup and more. You will be expected to work CSA pick-up and farm stand shifts as a part of your regular schedule, including one Saturday per month. Time will be spent in the greenhouse, in the field and as a public-facing liaison. Work is fast-paced and physically demanding.
Requirements:
Candidates must have at least one full season of vegetable farming experience on a commercial farm. Must be able to lift 50lbs. and be on your feet for 6 hours straight. We are looking for candidates with the following traits:
– Strong work ethic
– Positive attitude
– Excellent listening and communication skills
– Ability to maintain a fast pace both independently and in a team setting
– High level of focus and stamina
– Openness to and comfort with receiving feedback
– Willingness to learn new skills and take initiative
– Attention to detail and quality standards
– Sense of humor
– Strong interest in small-scale, organic agriculture and community building
We do not offer housing so reliable transportation to and from the farm is necessary (we are located 25 minutes from downtown Portland), along with a valid driver's license for driving farm vehicles in the field and on delivery routes.
We are a manager-heavy operation with 3 owners who work on the farm full time, 3 year-round farm managers who specialize in different areas of the business, and other returning employees. We have high standards for efficiency, work pace, and product quality and recognize that an extensive orientation and training period is necessary to get new employees up to speed.
In terms of culture, Bumbleroot is an inclusive workplace. We strive for a culture of connectedness and believe that we are able to grow and learn better as a diverse team. We love to laugh, work hard, break farm records, and share our latest book and recipe adventures. We do our best to set clear expectations, check in with our employees with honest feedback and measurable metrics, and share the knowledge and experience that we have gleaned over many years of farming and building our business. We are transparent with our business goals and financials. We value kindness, open & honest communication, and cooperation.
Application Details and Deadline
Please take a moment to learn more about our farm, philosophy and team by visiting our website. If you think you would be a good fit for this position, email a current resume and cover letter explaining why you'd like to work at Bumbleroot to [email protected] We look forward to hearing from you!