Frinklepod Farm
FULL FOR THE 2021 SEASON
We are located on a rural but well-traveled stretch of road which connects the small towns of Kennebunk and Kennebunkport and the small city of Biddeford – each about 4 miles away from us. The cities of Portsmouth, NH, and Portland are a 30-minute drive in either direction. We are close to biking and walking trails, sandy beaches, and swimming spots, as well as shops, restaurants, live music venues, etc.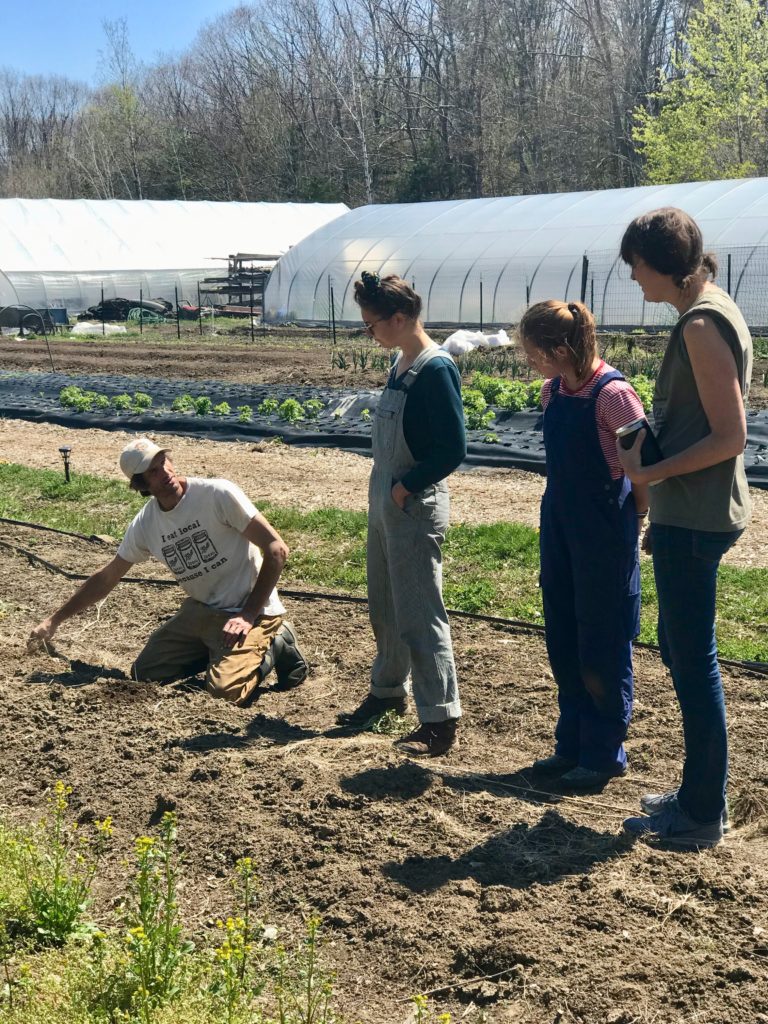 What is the ideal time period for your apprenticeships?
April 1 – Oct. 31 Priority is given to applicants who can be available for the full season.
Describe the physical setting of your farm and the nature of the community in which you live
We are located on a rural but well-traveled stretch of road which connects the small towns of Kennebunk and Kennebunkport and the small city of Biddeford – each about 4 miles away from us. The cities of Portsmouth, NH, and Portland are a 30-minute drive in either direction. We are close to biking and walking trails, sandy beaches, and swimming spots, as well as shops, restaurants, live music venues, etc.
Our farm consists of 4 acres of agricultural fields and 12 acres of woods in the middle of a residential area.
We, along with our apprentices, live on our family homestead which is across the street from the farm. This 100 acre property (mostly woods, some fields, big garden, and a glorious swimming pond) is where Noah grew up and where we are raising our family. We also grow some of our commercial crops here. The property is also home to some extended family members and has a long history of being a subsistence farm, connected to a nearby holistic/alternative K-8 school.
We are a small, unique farm growing certified organic vegetables, and a smaller amount of flowers, on 4 acres in Arundel, Maine. All of our sales come through our year-round farm store, which also features our own value-added products, items from other local farms, food producers, and makers, along with a wide variety of grocery items.
We are passionate about providing our community with nourishing food, resources education related to living more sustainably, and opportunities to gather and connect with each other and the land. Deeply concerned about the loss of agricultural land and biodiversity in this part of southern Maine, we grow using organic methods focusing on soil health and drawing inspiration from permaculture principles. We use mainly hand tools along with a walk-behind tractor.
As partners in both life and work, we (Noah and Flora) manage different aspects of our ever-evolving farm business. Noah is the lead veggie farmer, running our seedling greenhouse, 4 high tunnels, field production of annual and perennial crops, and post-harvest operations. Flora runs the retail, business, and marketing sides of the farm; grows and designs flowers, manages our commercial kitchen, leads vegan cooking classes and organizes our events calendar. All of our sales are direct-to-customer in our farm store (open year-round); CSA members sign up for a debit card, essentially buying a gift card to the farm with a discount. From the beginning, our focus has been on drawing the public to our farm and creating a welcoming, informative experience for them, rather than traveling to markets and/or having wholesale accounts.
Is your operation certified organic? If not, to what degree are organic methods used on your farm?
Yes, our food crops are MOFGA certified. We focus on soil health and preventative pest management practices. Our cut flower operation is not certified mainly due to the fact that some of the hard-to-find flowers we grow are bought in as plugs from nurseries that are not certified.
Describe the work to be performed and the skills to be learned by an apprentice
We are hiring two first-year Farm Apprentices and one second-year Farm Apprentice who work closely with Noah on all things related to growing vegetables on a production scale – greenhouse seeding, seedling care, transplanting, irrigation, weeding, pest management, harvesting, washing, processing, and more. There is also the opportunity to help with flower farming if there is interest. They also interact regularly with our farm store manager and Flora around setting up our seedling sale and in-store displays, learning about direct-to-consumer marketing and retail
Our apprentices receive an immersive experience in the running of a small, community-focused, certified organic farm business. One-on-one instruction, an emphasis on learning by doing, weekly lunch & learn sessions, regular individualized goal setting and check-ins, and participation in MOFGA's farmer training sessions across the state provide the backbone of the apprenticeship experience. Conversations around farm financing and bookkeeping, crop planning and record keeping, marketing and community relations, and broader issues such as food equity and racial justice in farming are all part of the experience.
List any requirements of employment
We ask that you be able to lift 50 pounds and have the physical stamina to work outside, all day, in any weather conditions.
What do you expect of an apprentice?
The typical work week is Tuesday through Saturday, 7:00 – 4:30 with two breaks in the middle of the day. Apprentices may take 3 vacation days off over the course of the season, which we coordinate together in advance.
We are seeking apprentices who are self-directed and passionate about learning how to farm. Preference is given to people who have prior experience in farming, landscaping, or other high-intensity experiences such as college sports. Our second-year apprentice must have spent one full season apprenticing on a comparable farm and will be prepared to take on some additional responsibilities and leadership within the crew. Farming is physically demanding, happens in all kinds of weather, and can be tedious. Strength, stamina (physical, emotional, and mental), speed, and efficiency are all traits that make a successful farmer. But we also value flexibility, curiosity, a sense of humor, and really good communication skills. We expect you to be comfortable working both alone and with others, to be able to accept constructive criticism, and to be comfortable advocating for your needs (at both work and home).
Explain how you provide instruction, training and feedback to apprentices
Our apprenticeship program emphasizes learning by doing. We demonstrate new tasks and work with you to develop and hone skills; as you gain confidence and proficiency, you will often be expected to work without supervision and eventually to take responsibility for your own projects. Our crew meets regularly to go over plans, set goals, and do field walks. We also have a weekly "lunch & learn" workshop with the crew in which a specific topic (e.g. soil health, farm finances, irrigation) is presented on and discussed. We give our apprentices time off to participate in MOFGA's Farm Training Projects and to visit other farms. The compact size of the farm and small crew size allows for constant and personalized guidance and communication as needed.
Our farming income is currently supplemented by Noah's construction/carpentry jobs during the winter. Flora works full-time for the farm year-round.
Please describe your level of daily or weekly involvement of apprentices.
You will have the unique opportunity to participate in every facet of the operation of a small diversified farm that is at the cutting edge of the local food movement in our community. Our apprentices work alongside us in practically every task we do, rotate responsibilities for specific regular tasks, and over time will take on more responsibilities based on their interests and strengths. Each apprentice begins the season with their "own" greenhouse to take care of, and is responsible for everything that happens in that greenhouse over the course of the season (with guidance and support, of course).
Describe compensation for apprentices
We provide an $1200/month stipend for our first-year apprentices and $1600/month for our second-year apprentice, housing (see below), and unlimited produce from the farm.
Yes, On-farm
Please describe the accommodations, facilities and explain any room and board arrangements
Housing is provided on our multi-generational family (ages 8 to 83) homestead. The sleeping quarters – a camper and two bedrooms in the barn, your choice – are within close proximity to a shared outhouse and to the main farmhouse where there is a full kitchen/living room that is used exclusively by the apprentices, as well as an indoor shower, washing machine, and wifi access. Apprentices may choose their shop/cook/eat together or separately.
Our own family lives in an apartment above your kitchen and we like enjoy socializing with our apprentices on a regular basis, including potlucks and bonfires. Swimming in the pond and enjoying summer bonfires are recommended. Responsible drinking is OK. No smoking or illegal drugs.
Do you require a prospective apprentice to visit your farm before a final arrangement is made?
We very strongly encourage a visit as part of the interview process. We will consider an applicant who is too far away to visit, though. There is no official trial period, but we rely on clear, open, and ongoing communication about how the situation is working for everyone.
Do you have a written Farm Employees manual? What is your process for evaluating work and giving feedback? What is your process for disciplinary action if necessary?
Yes. We have an apprentice agreement (to be signed upon arrival), an apprentice manual and some standard operating procedures in place. Goal-setting and check-in meetings are held in a group setting on a regular basis, with a one-on-one feedback session several times over the course of the season. If an apprentice breaks our trust or violates the agreement they signed, they will be asked to leave immediately.
Describe yourself, your family, background, farming experience, philosophy, goals & interests:
With backgrounds in education (Flora) and green building (Noah) and experience growing our own food for many years, we both came to commercial farming with a deep desire to make a difference in our community through local agriculture. We purchased this land in 2011 with the goal of creating a visible, viable farming business in our area, which was once a vibrant agricultural community but is now dotted with subdivisions and second homes.
Our daughters Sascha (11) and Etta (8) are an integral part of the farm and love having their own tasks and entrepreneurial projects to work on there. They are independent and creative and thrive on the family-like relationships that often form with our apprentices. While our kids are not with us at the farm every moment of the day, we have chosen to farm as a family lifestyle and to raise our children with an appreciation of hard work, living simply, and the natural world. Our non-farming family time revolves around enjoying music, playing games, making art, swimming and outdoor adventures.
Please describe any ideological and/ or political views that may affect an apprentices experience on your farm. How would navigate if apprentices views are different from your own?
We consider ourselves to be open-minded and accepting of people of all different walks of life and viewpoints, provided that there is healthy communication and openness to dialogue. We expect apprentices to have an open mind and a willingness to learn, and to share our values about the importance of small-scale, organic agriculture. While our family is vegan, and many of our customers are drawn to the farm because of the many vegan options we offer, many of our past apprentices have had different diets and it was a non-issue. Mutual respect and honest communication are the name of the game for us.
By participating in the MOFGA apprenticeship program you agree to uphold the "MOFGA Apprenticeship Program Core Values". Please briefly describe how these 4 values are exemplified on your farm.
Education and Relationship Building
The host farmer commits to principles of mentorship including agreeing to share their experience and knowledge in all aspects of their farm on a regular basis. The host farmer commits to taking the time and thoughtfulness through regular check-ins to support the growth of the beginning farmer and build a relationship of mutual respect that may extend beyond the length of the apprenticeship. The host farm agrees to support their apprentice in accessing MOFGA educational programming.
At the start of the term, the apprentice and their supervisor will create a customized work plan to meet goals set by the apprentice. Throughout the term, the apprentice and their supervisor will check in on a daily/weekly basis. In the mid-term and at the end of the term, the supervisor will meet with the apprentice to conduct a work plan review and progress evaluation.
As part of the work plan, supervisors work with the apprentices to schedule time for the apprentices to take workshops and trainings through MOFGA, the Maine Agricultural Trade Show, Maine Land Conservation Conference, and trainings and workshops led by MCHT staff. Supervisors also assist apprentices in finding other educational opportunities that align with the goals of the apprenticeship. Apprentices will have some exposure to operations at MCHT's Erickson Fields vegetable farm in Rockport if they wish experience beyond their training at Aldermere Farm.
Equity and Inclusivity
Prior to mentoring apprentices, host farmers are encouraged to acknowledge their own perspective including assumptions, privileges, and biases that may affect an apprentice's experience on their farm. MOFGA expects host farmers to support a more equitable and just food system for all and work towards creating a more inclusive farm learning and working environment for beginning farmers that are historically and currently under-supported in agriculture. This includes but is not limited to women, people of color, LGBTQIA+ individuals, veterans, low-income individuals, people of diverse religious and non-religious affiliations, immigrants, and asylum seekers.
MCHT is an equal employment opportunity employer. We do not discriminate on the basis of race, color, sex, national origin, age, disability, veteran status, sexual orientation or any other characteristic protected by law.
One of the goals stated in MCHT's mission is to contribute to community well-being. The programming at Aldermere Farm and Erickson Fields focuses on serving youth, promoting animal welfare through the responsible and humane care of livestock, stewarding the land and protecting the environment. Many of the organizations we partner with serve at-risk youth and those who face food insecurity. In order to support our community partners, the goals of our outreach and our overarching mission of contributing to community well-being, we must practice inclusivity and support a more equitable and just food system for all.
Environmental Sustainability
In line with MOFGA's mission, host farmers are expected to be farming in an environmentally sustainable and regenerative manner and provide training in these techniques with the apprenticing beginning farmers. Host farms are not required to be certified organic, but their production methods should be in alignment with organic principles.
Aldermere Farm is not certified organic, but livestock are raised all-natural with all the herd on pasture during the growing season. The herd is fed grain made up primarily of oats and barley grown here in Maine. Animals are not fed hormones or antibiotics. Many educational workshops held at the farm include organic practices as well as conventional for participants to learn both methods.
Safe and Fair
It is the host farmer's obligation to compensate the apprentice fairly and justly and to comply with all applicable laws including insurance and workers compensation. The application of other federal and state laws governing housing, safety and farm operations may also apply. The host farmer will have respect and dignity for the labor and service being provided by the apprentice and prioritize clear, respectful, and nonviolent communication on their farm. Host farmers agree to establish, and respect physical and emotional boundaries communicated between the apprentice and the host farmer.
Apprentices will be paid a stipend of $1000 each month and will be offered shared housing on the preserve. Benefits will be commensurate with their length of employment. MCHT's COO and HR Generalist support farm staff to ensure our operations are in compliance with all applicable federal and state laws.
We foster cooperation and positive relationships between apprentices and staff by:
encouraging housemates to connect via email or phone before moving to the preserve;
meeting with the housemates together at the start of their terms to review "house rules" and the MCHT Staff Handbook, as well as how to communicate clearly, respectfully and nonviolently with each other and their supervisors;
providing an emergency contact list so apprentices know who to reach out to for their immediate needs;
scheduling daily/weekly/mid-term check-ins between apprentices and their supervisors.

Danielle Mawhir | Former apprentice reference
[email protected] | 814-823-9122

Mae Sefransky | Former apprentice reference
[email protected] | (860) 287-3781

Ellie Angerame | Former apprentice, friend | Personal reference
[email protected] | (203)993-5948

Previous
Next
244 Log Cabin Rd
Arundel, ME 04046, USA