By Gail Faith Edwards
Copyright ©2006 by the author
On the night of December 3, 1984, 40 tons of deadly methyl isocyanate (MIC) gas, black green in color, according to those who saw it, leaked from the Union Carbide India Limited Factory and swept through most of Old Bhopal, India, within a few hours. The poisonous gas entered at least half a million people's bloodstreams through their lungs and damaged almost every system in their bodies. On that one night more than 8,000 lives were lost. The death toll has reached over 20,000 today. Far more still suffer devastating illness and debilitating and congenital diseases.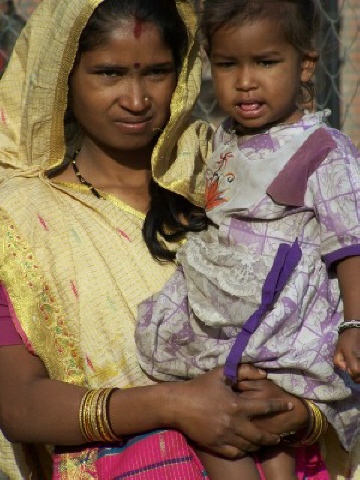 I had the privilege of being invited to work at the Sambhavana Clinic and Herb Garden in Bhopal last fall as part of an international task force attempting to assist the Bhopali people with health, economic, environmental and political justice issues.
Bhopal is an epic human disaster. The people live daily with extreme poverty, despair, illness and death, yet their inner strength and ability to persevere in the face of such devastation and betrayal is a testament to the inherent dignity of the human spirit. These people have not lost hope, and thus offer inspiration to others worldwide.
To be honest, I cried many times a day for the first several days after my arrival, from the shock and horror of what I found. Human waste runs through open gutters along sidewalks. Most homes in the "bastis," or slums, are merely salvaged materials propped against one another. Children play in filthy dumps on every corner. Plastic garbage is everywhere. There is no garbage disposal system, no clean water, no plumbing. Black smoke from burning plastic and rubber fills the air continuously.
Ongoing problems faced by these people include gross contamination of their environment by tons of the world's most deadly chemicals still leaking from the abandoned Union Carbide factory; "gas affected" parents bearing children with severe congenital deformities; extreme health problems suffered by nearly everyone; drinking, washing with and bathing in chemically contaminated water–the only water available; and the fact that no criminal liability has been brought against the offending corporation, now owned by Dow Chemical. Widespread illiteracy, acute poverty, profound class bias and rampant political corruption complicate these issues even more.
The Sambhavana Clinic and Herb Garden is a heavenly oasis in the midst of this horror. Colorfully dressed patients stream into the clinic daily, vividly reporting an array of maladies that made my head spin and my heart break into a million pieces: frequent low-grade fevers, watering eyes, chest pain, breathlessness, heart palpitations, shivering hands and lower limbs, acute tiredness, severe joint and muscle pains, and heart palpitations. Feelings of anxiety, panic, depression, insomnia and post-traumatic stress are rampant. Many people continue to relive the experiences of the night that changed their lives forever. Most of them lost family members, many their entire family.
Many girls and women suffer anemia, menstrual and gynecological problems, infertility and frequent abortions. Children born after the disaster are underweight, weak and sickly. Sixteen- and 18-year-olds commonly look more like 8 or 10. Respiratory illness, cough, asthma, diabetes, digestive distress and skin disorders of every kind are suffered on a large scale.
City hospitals set up initially to treat gas victims are inadequately staffed, equipment is dysfunctional and compassion is sorely lacking. At the Sambhavana Clinic, patients find caring doctors and health workers (some gas victims themselves),free health care in the form of allopathic, Ayurvedic (traditional Hindu medicine) and pancha karma (Ayurvedic detoxification and rejuvenation) treatments, yoga, pranayama (breath control, used in yoga), nutritional education and free medicine. Sometimes what the people seem to need most is someone to truly listen to them, someone who genuinely cares.
The Herb Garden, adjacent to the clinic, is the brainchild of organic gardener and my former herbal apprentice, Terry Allan. It is a miraculous and inspiring creation! In less than three years Allan transformed a former plastic dump site into a magnificent garden full of a wide array of thriving western and Ayurvedic medicinal herbs that are used in the clinic. (See https://www.mofga.org/mofgj00ta.html and https://www.mofga.org/mofgd04e.html.)
My role at Sambhavana was twofold. For the first few days I familiarized myself with the people coming for care in order to understand their needs and concerns. My challenge was to design several herbal formulas, using mostly herbs growing in the garden, to help address these needs. I then conducted two days of herbal medicine making classes, primarily for the doctors, Ayurvedic practitioners, medicine makers and health workers, but volunteers at the clinic, gardeners and community members also attended, and the classes served as models for health workers to implement an herbal home remedy program in the bastis.
Allan and I, along with Marisa Miyoshiro, also my former apprentice who has been volunteering at Sambhavana, brainstormed for a couple of nights. We formulated five nutritional tea blends with Western and Ayurvedic herbs, wrote descriptions and directions for each, then mixed large batches of these blends for the clinic. We also created herbal salves for skin problems and joint and muscle pains, and made a simple ginger syrup to help alleviate digestive upsets. After the classes began, the doctors encouraged me to receive and treat patients at the clinic, under their supervision, with these preparations. For the remainder of my stay I listened deeply (with the help of my able interpreter, Anjali Deshpande), making each patient the center of my universe; rubbed sore muscles and joints; applied rose water and salves to skin; and offered my love. I heard the same refrain from doctors and patients: "Please come back" and "Please don't forget about us."
Those 10 days in Bhopal changed my life. We have such wealth in Maine! Such abundance! Our air and water are pure and clean; our environment, for the most part, unspoiled. Even the poorest among us is rich compared with the people I met and cared for in Bhopal.
Sambhavana does not accept donations from corporate charities or large funding agencies but relies on small donations from ordinary people worldwide. For more information please visit www.bhopal.org.
---
Ayurvedic Herbs Growing at the Sambhavana Herb Garden
By Gail Faith Edwards
More than 100 Ayurvedic herbs grow in the lush, magnificent herb garden that Terry Allan created at the Sambhavana Clinic in Bhopal, India. Nine of the most widely used are: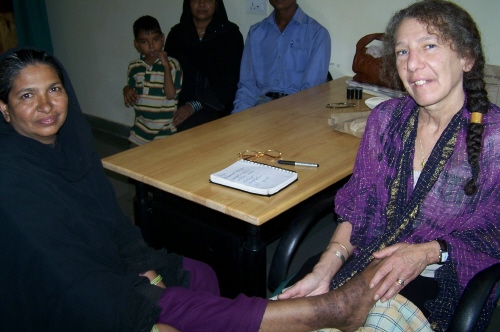 Maine herbalist Gail Faith Edwards volunteered at the Sambhavana Clinic and herb gardens in Bhopal, India, this winter with her former apprentice Terry Allan. Edwards helped develop herbal mixtures to benefit people who still suffer from the toxic effects of the explosion of the Union Carbide pesticide plant there. Dow Chemical now owns Union Carbide. Photo by Terry Allan.
Neem, Azadiracta indica –This lovely evergreen tree, cultivated all over India, has become a symbol of Indian indigenous knowledge of medicinal herbs. One of the most important herbs in Ayurvedic medicine, neem is described in several ancient Indian medical texts, and its Sanskrit name, nimba, is derived from a word literally meaning "to give good health." The roots, bark, gum, leaves, fruit, seed kernels and seed oil are used medicinally. The bark, regarded as bitter, tonic and astringent, helps alleviate fever, thirst, nausea, vomiting and skin diseases. The leaves are used as a potherb and are made into soup or curry with other vegetables. They are a popular remedy for skin diseases. The fruits are described as purgative and emollient and are useful in treating intestinal worms, urinary diseases and ulcers. Neem is considered to be anti-malarial, antiviral, anti-inflammatory and a potent antiseptic, among its many other uses. At the Sambhavana Clinic neem is used to relieve pain. On one adventure into the marketplace, I saw neem sticks being sold as toothbrushes. The end of the stick is shredded and rubbed over teeth and gums to stimulate health and prevent infection. According to Indian physicist and activist Vandana Shiva, neem oil is a potent spermicide and is considered to be 100% effective when applied intra-vaginally before intercourse.
Tamarind, Tamarindus indica, a tree with graceful, lacy leaves and a gorgeous flower, is called the "date of India." Its leaves are commonly ground with lime juice and other herbs and applied to boils to reduce sepsis and swelling. The leaves and pulp from the fruit relieve liver congestion, chronic constipation and hemorrhoid pain. In traditional Indian medicine tamarind fruit has many indications, including use as a digestive, laxative, tonic, anthelmintic, antipyretic and astringent. It is favored for wound treatment, sore throat, urinary problems, gonorrhea, ulcers and liver disease.
Tulsi or Sacred Basil, Ocimum sanctum–Hindus grow tulsi as a religious plant in their homes, temples and farms, using its leaves in worship. It is also grown as a potherb. When I visited Sambhavana the tulsi plants (Khrisha Tulsi) were in full flower, with gorgeous reddish blooms. Tulsi is strongly antibacterial, antifungal and antiviral. It inhibits the growth of a wide range of pathogens, including of E.coli, and is widely used in Ayurvedic medicine for its antibiotic properties and to strengthen immunity. Tulsi is an important constituent of many Indian cough syrups and expectorants. It helps eliminate mucus, and chewing fresh tulsi leaves is believed to relieve cold and flu symptoms. It is also useful for diabetics as it helps lower blood sugar levels. Tulsi possesses anti-fertility properties when used regularly, reduces estrogen levels in females and sperm counts in men.
Eranda, Ricinus communis–I saw beautiful castor bean plants growing all along roadsides and in open areas throughout my travels in India, and several of these small trees are cultivated in the Sambhavana Herb Garden. According to Terry Allan, the castor oil plant is used traditionally in India to treat pain, fever, inflammation, asthma, bronchitis and leprosy. The leaves are used against intestinal worms, and flowers are used against glandular tumors, anal troubles and vaginal discomfort. The seed and oil are cathartic. Castor beans are severely poisonous, but the oil is safe because the poison remains in the seed. Used externally, castor oil stimulates lymph drainage. A cotton or flannel pad is commonly soaked in the oil and applied as a moist pack for one-half to one hour, using a heating pad to stimulate absorption. The castor oil pack is placed over swollen glands, cancers, cysts, hard swellings and other abnormal growths. The oil is said to stimulate the lymphatic system to draw away poisons.
Vasa, Arusa, Adhatoda vasica, is a dense, perennial shrub growing throughout India, including in most waste places. Its leaves are dark green above and pale yellow below, its flowers a white spike. Vasa is a powerful expectorant. Traditional Ayurvedic healers use the juice of Vasa leaves to treat coughs, asthma and general respiratory ailments. A paste made from the leaves is often mixed with honey as a remedy for asthma. At Sambhavana the leaves are used to produce a medicinal steam to treat respiratory distress.
Ashwagandha, Withania somnifera, is a perennial herbaceous plant that produces tiny, deep orange-red fruits enclosed in papery husks. The plant and fruit resemble its relatives, the ground cherry and Chinese lantern. The dried root and berry are popular Ayurvedic medicines used to boost the immune system and increase vitality. It is commonly referred to as India's ginseng and is widely used to treat any weakness, to ease muscular aches and pains and as a sexual tonic. Ashwagandha is often combined with milk and used in formulations prescribed for stress, strain, fatigue, pain, skin diseases, diabetes, gastrointestinal disease, rheumatoid arthritis and epilepsy. In vitro studies demonstrate its effectiveness against breast, central nervous system, colon and lung cancer cell lines. Other studies suggest anti-inflammatory, anti-tumor, immunomodulatory, antioxidant and anti-stress properties. Rich in iron, ashwagandha is in great demand at Sambhavana Clinic; one-quarter of the garden is devoted to its cultivation.
Nirgundi, Vitex negundo–Traditional healers and tribal people of India have a wealth of knowledge regarding the uses of this large aromatic shrub, a relative of Vitex agnus-castus, or Chaste Tree. An herbal oil from the fresh leaves is used to relieve more than 70 common diseases. Nirgundi is commonly applied to arthritic joints to relieve pain and inflammation. The leaves are anti-inflammatory, antibacterial, antifungal and analgesic. It is also useful in treating superficial bruises, injuries, sores and skin infections.
Giloy, Tinospora cordifolia, a large, deciduous, climbing shrub with small, yellow/green flowers, is widely used in Ayurvedic medicine as a tonic, revitalizer, alterative and stimulant. It is used to treat chronic problems and fatigue, is valued as a remedy for diabetes and metabolic disorders and is used against stomach ulcers and urinary infections. Giloy is said to improve the immune system and the body's resistance to infections and promotes regeneration of the liver from drug induced hepatic toxicity. It is also used to treat eye conditions, build tissues and prevent premature aging. The whole plant and the juice of the leaves are traditionally used to treat various mental disorders. Giloy is regarded as one of the best psychotropic drugs in India.
Shatavari, Asparagus racemosus, is a woody climber with pine-needle-like leaves and tiny white flowers in small spikes. Shatavari literally means "who possesses a hundred husbands." It is considered a general tonic and a female reproductive tonic. Shatavari is the main Ayurvedic rejuvenative tonic for women and is highly regarded as a blood purifier. It is commonly used to treat a wide range of women's reproductive problems, including easing the discomforts of menopause. It helps maintain a healthy urinary tract, strengthens the immune system and is useful against viral infections. Shatavari is recommended in Ayurvedic texts for preventing and treating gastric ulcers, dyspepsia and for use as a galactogogue (to stimulate milk production). It has also been used successfully by some Ayurvedic practitioners to treat nervous disorders, inflammation, liver diseases and certain infectious diseases.
About the author: Gail Edwards owns Blessed Maine Herb Co., in Athens, Maine (www.blessedmaineherbs.com). She is the author of Traversing the Wild Terrain of Menopause—Herbal Allies for Midlife Women & Men and Opening Our Wild Hearts to the Healing Herbs. This article is for information only; to treat serious health problems, please consult a medical practitioner.